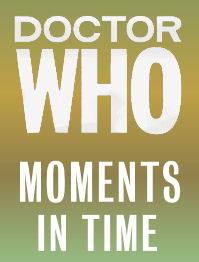 Today marks the 100th aniversary of the birth of one of the greatest of all Doctor Who villains, the original Master,
Roger Delgado
.
Roger Delgado was a mainstay of the series during the early 1970's, first appearing in the 1971 Robert Holmes story
Terror of the Autons
.
The character was created by producer
Barry Letts
and Script Editor
Terrance Dicks
to act as a foil to the Third Doctor as played by Jon Pertwee, a Moriarty to the Doctor's Sherlock Holmes
He appeared in every story of Season 8, even at times eclipsing the Doctor, much to Pertwee's annoyance. With Jo Grant played by
Katy Manning
aiding the Doctor, and the team of UNIT fully established, the series settled into the pattern of The Master plotting to bring about the downfall of the human race only to be thwarted by the Doctor at the last minute.
His appearances in Season Nine were less frequent, but he still managed to appear in twelve out of the 26 episodes. His final appearance was the following year, in the 1973 story
Frontier In Space
. His premature death in a car accident in Turkey robbed the series of one of its classic villains and the cast of one of their closest friends. We never got to see the final showdown between the Third Doctor and The Master and the character disappeared from the series for many years. His death contributed to Pertwee's decision to depart the series after Season 11
Roger Delgado was born
Roger Caesar Marius Bernard de Delgado Torres Castillo Roberto
on 1st March 1918. Although his mother was Belgian and his father was Spanish, he was born in Whitechapel, in the East End of London, and within the sound of the Bow Bells, making him a true cockney. He served in the Second World War with both the
Leicestershire Regiment
and the
Royal Signals
, attaining the rank of major
He made his theatre debut in 1939 and his first television appearance in 1948. For the next 25 years, he specialised in evil European types with roles such as the duplicitous Spanish envoy Mendoza in
Sir Francis Drake
and Don Jose in
Queen's Champion
. He appeared in
The Three Musketeers, Nom-de-Plume, The Buccaneers, Huntingtower, The Adventures of Robin Hood, Hancock's Half Hour, Biggles, The Odd Man, Triton, Richard the Lionheart, Ghost Squad, Seeing and Believing, The Man in the Iron Mask
and
Z-Cars
. He made 16 appearances in ITC produced action series, including
Danger Man
,
The Saint
,
The Champions
, and
Randall and Hopkirk (Deceased)
.
He was killed while on location in Turkey, whilst shooting
La Cloche tibétaine
a Franco/German TV mini-series when the car in which he was traveling went off the road into a ravine.
He was 55 years old.
Psychedelic Electrical Storm | The Claws of Axos