Friday, 30 June 2017 - Reported by Marcus
Friday, 30 June 2017 - Reported by Chuck Foster
Penguin Random House UK
have released the cover for this year's
Doctor Who Annual
, due out on
21st September
.
The series will be finishing tomorrow, but with the annual featuring brand-new adventures on board the TARDIS with the Doctor, Bill and Nardole, there's no need to wait until Christmas to get your next dose of our favourite show! The annual is packed with secrets from the latest series, fact files on the latest terrifying monsters, exciting comic strips, stories and activities.

The Annual is available for pre-order via our
Amazon Shop
.
Thursday, 29 June 2017 - Reported by Marcus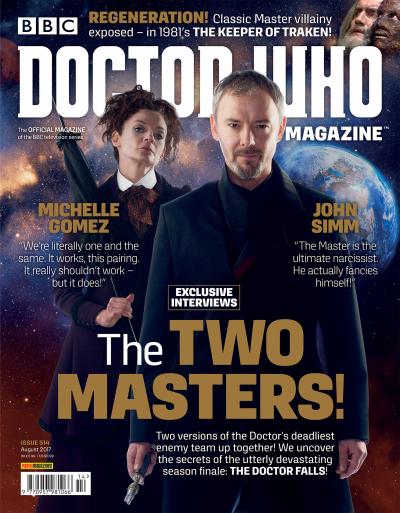 Looking ahead to the series 10 finale, the latest issue of
Doctor Who Magazine
contains interviews with both Masters.
John Simm
tells the magazine about playing the Master with a beard:
Yeah, I just grew it, and turned up at the readthrough, and said, 'You know, I fancy a bit of this.' Everybody seemed fine with it. I just thought, 'Give a little nod.' It was a nod to the Delgado and Ainley Masters. There's a line in the final episode where he mentions 'old-school', and I made sure to give the beard a little stroke – a small nod to the old Masters.
Michelle Gomez
ponders on whether the Master could ever truly become good:
Even the worst psychopath can't be entirely bad. It's basic math. A positive cannot exist without a negative, and so there always has to be a thread of goodness in somebody. What makes you thoroughly evil, I believe, is when you recognise that thread of goodness – you're aware of it, you're conscious of it – and you still decide to be evil. Then, yes, you've earned the crown of… of evilness? Evil-ality. You wear your crown of evil-ality.
Also in this issue:
THE DOCTOR FALLS
Writer Steven Moffat and director Rachel Talalay give DWM readers an exclusive preview of the series finale, The Doctor Falls.
MARK GATISS
The writer and actor chats to DWM about his love of Doctor Who, his long association with series, and his most recent episode Empress of Mars.
CHRISTMAS COMES EARLY
Showrunner Steven Moffat writes about how he has delivered his final Doctor Who script – the 2017 Christmas Special.
THE SOUL GARDEN
The adventure continues for the Doctor and Bill in Part 3 of the latest comic strip story, written by Scott Gray, with art by Martin Geraghty.
MORE MASTER VILLAINY!
This issue's Fact of Fiction looks back at the 1981 Fourth Doctor story The Keeper of Traken – which featured an unexpected appearance of an old foe...
REVIEWS
DWM reviews the latest TV episodes (The Lie of the Land, Empress of Mars and The Eaters of Light) as well as audio and DVD releases in the world of Doctor Who.
COMING SOON
Previews of all the latest Doctor Who CD and book releases.
PLUS! All the latest official news, the Watcher's column, competitions, the DWM crossword – and more.
Doctor Who Magazine 514 is on sale from Thursday 29 June, price £5.99.
Wednesday, 28 June 2017 - Reported by Chuck Foster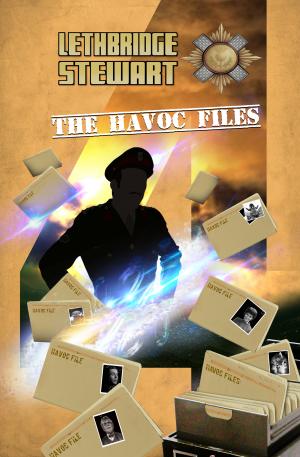 Candy Jar Books
has announce its latest volume of
The HAVOC Files
, collecting short stories from early 2017 (in print for the first time) and brand new exclusive material.
This volume contains three short stories previously available in digital format and released early 2017, plus five brand new stories, including the final episode of the three-part novella,
The Lost Skin
by
Andy Frankham-Allen
(episodes one and two of which were published in
The HAVOC Files 2
and
3
).
The Contented Mind by Wink Taylor
The Runaway Bomb by Nick Walters (previous digital release)
United in Blood by Mark Jones (previous digital release)
The Cruel Oil by Harry Draper
All the King's Men by Alyson Leeds
The Great Magician and the Spirits of the Vasty Deep by Gareth Madgwick
The Slow Invasion by Andrew Allen
The Two Brigadiers by Jonathan Macho (previous digital release)
The Lost Skin: Episode Three by Andy Frankham-Allen
Range Editor
Andy Frankham-Allen
says:
This is probably our most exciting volume yet, because it features five stories that are a direct result of our recent open submission period. We had such an amazing response and received so many varied ideas, most of which made it as far as the one-page outline stage. Many of those led to a commission, and HAVOC 4 presents the first five of those commissions, all by authors new to the range and, some, completely new to profesionally published fiction.

Among the authors new to range are
Andrew Allen
, who is a Brighton-based writer, actor, director and workshop leader, as well as the co-founder and Artistic Director of Cast Iron Theatre. This collection also introduces to the range,
Wink Taylor
, who was a writer/actor for both
Sooty
and
Basil Brush
, as well as creator of the popular childrens' character
Theo the Mouse
. He is also well-known for his voice impersonations of various
Doctor Who
characters, notably the Third Doctor and Brigadier Lethbridge-Stewart.
The cover has been designed by
Richard Young
:
Shaun (Russell, Head of Publishing) had promised me The HAVOC Files cover since book two came out, so I was over the moon when he said that I was doing book four. I've always had the idea of using the Brig and a filing cabinet, but my initial ideas just weren't working for me. I then came up with another idea, but it was felt that this new idea was too similar to another cover I had done. Shaun and I then bounced several other concepts back and forth, trying to make the '4' the main element, and after some very minor adjustments just to tighten things up, we had something we both liked.

Like the previous volumes, The HAVOC Files 4 is only available direct from the
Candy Jar Store
, and is a strictly limited-print run.
HAVOC 1, 2 and 3 are also all available for digital download on Kindle.
---
Candy Jar is also pleased to announce that the upcoming
Lethbridge-Stewart Quiz Book
will contain an exclusive story written by
Tim Gambrell
:
"Lethbridge-Stewart is called back to Bledoe to help an old friend he barely remembers, and memories of quiz night with the Bledoe Cadets soon surface..."
Tuesday, 27 June 2017 - Reported by Marcus
The BBC have released a number of new publicity images to promote this week's episode of
Doctor Who, The Doctor Falls
The Doctor Falls

Writer: Steven Moffat
Director: Rachel Talalay

The Mondasian Cybermen are on the rise. It's time for the Doctor's final battle…
This week BBC One will show
Doctor Who
at
6.30pm
.
Main Broadcast Details
United Kingdom
BBC One
Sat 1 Jul 2017
6:30pm BST
Middle East
BBC First
Sat 1 Jul 2017
9.20pm AST
(Sat 7:20pm BST)
United States of America
BBC America
Sat 1 Jul 2017
8.30pm EDT
(Sun 1.30am BST)
Canada
SPACE
Sat 1 Jul 2017
8:30pm EDT
(Sun 1:30am BST)
New Zealand
PRIME
Sun 2 Jul 2017
7:30pm NZST
(Sun 8:30am BST)
Finland
YLE2
Sun 2 Jul 2017
11.25pm EEST
(Sun 9:55am BST)
Australia
ABC
Sun 2 Jul 2017
7:40pm AEST
(Sun 10:40am BST, also on ABC ME)
Brazil
SyFy
Sun 2 Jul 2017
8:00pm BRT
(Mon 12:00qm BST)
Latin America
SyFy
Sun 2 Jul 2017
10:00pm CDT
(Mon 4:00am BST)
Full listings
here
Monday, 26 June 2017 - Reported by Marcus
Doctor Who -
The Eaters of Light
had an official rating of
4.73 million
viewers.
The episode was the
26th
most watched programme of the week, and the 11th highest rated programme on the BBC.
For the second week running, Doctor Who was the highest rated programme on Saturday, overtaking Casualty which was ahead in the initial overnight figures.
Top for the week was
Coronation Street
with 7.86 million watching. The BBC's highest rated programme was
EastEnders
with 6.6 million viewers
Monday, 26 June 2017 - Reported by Marcus
Doctor Who - World Enough and Time had an Audience Index or AI score of
85
.
The score is an indication of how much the audience enjoyed the episode. The score of 85 is the highest since the series 8 episode Dark Water, and the joint highest of the Capaldi era.
The score is the joint highest score achieved by the two main channels on Saturday, with Casualty and The Voice: Kids also scoring 85.
Monday, 26 June 2017 - Reported by Adam Kirk
World Enough and Time
has debuted in Australia, averaging 447,000 viewers in the five major capital cities. The story was the highest rating
ABC
drama of the day and the ninth highest rating program of the day overall
.
These ratings do not include iview, regional or time-shifted viewers.
Meanwhile, including time-shifted viewers,
Empress of Mars
averaged 465,000 consolidated viewers in the five major capital cities. With 81,000 extra viewers it was
the fourth highest time-shifted program of the day (the highest time-shifted program had 143,000 extra viewers) and the tenth highest rating program of the day overall
.
These ratings do not include iview or regional viewers.
Sunday, 25 June 2017 - Reported by Marcus
Doctor Who:
World Enough And Time
had an audience of
3.37 million
viewers, a share of
22%
of the total TV audience, according to unofficial overnight figures.
The day as a whole suffered from very low ratings with the highest rated show, Casualty, only getting 4 million watching. Mrs Brown's Boys had 3.38 million while Pitch Battle had just below 2 million.
Over on ITV the highest rated show was the children's version of The Voice which had 3.80 million watching.
Official figures will be released next week.
Sunday, 25 June 2017 - Reported by Marcus
This item contains spoilers.
Reaction to this week's episode of Doctor Who: World Enough and Time, is overwhelmingly positive, with many reviewers describing it as the best episode for years, if one of the darkest.
The Telegraph
called it a dizzying ride.
"Doctor Wow, more like. This two-part finale marks showrunner Steven Moffat's last regular episodes and he'd saved the best until second last. It was darkly thrilling, mountingly tense, genuinely scary and brimming with smart ideas – but stayed just the right side of over-clever, as Moffat is often criticised for being."
The Mirror
was impressed with the way the Cybermen were used.
"The true grit of World Enough And Time is the rise of the Cybermen and their creepy conversion hospital. It's as close to horror-film than Who has gone to in a long time. Anyone who wondered if the 60's low tech Cybermen could scare modern audiences needn't have worried. Bill awakening on a hospital bed with chest full of retro cyber-tech, rows of half converted patients screaming in pain, the show's own take on Nurse Ratchett silencing the victims' volume dial - it's chilling"
Macabre and riveting is how
Radio Times
described the story, also focusing on the return of the original Cybermen.
"What horror, what disfigurement lurks beneath the knotted bandages of these proto-Cybermen? It really is clever how Steven Moffat embraces the perceived weaknesses of the original 1966 cloth-and-plastic design – scorned and abandoned after their only screen outing in The Tenth Planet – and makes them sting."
Digital Spy
felt the number of plot points revealed in advance diminished the impact of the story.
"You don't have to be a Doctor Who super-fan, trawling every spoiler thread on every message board, to know that the Mondasian Cybermen and John Simm's Master are in this episode – even if you somehow missed the news, they both appeared in last week's Next Time trailer. The former reveal isn't such a problem. The episode plays the arrival of the Mondasians more as dramatic irony, an open secret it's teasing throughout. It's more a chilling inevitability than a jaw-dropping twist. But Simm's return? That was clearly intended to be a secret."
TV Fanatic
agreed
"Oh, to live in a day without spoilers. Most of the time, I don't mind them so much, to be honest. But no two ways about it: Doctor Who Season 10 Episode 12 would have been perfect without all the spoilers. Two of the big reveals at the end of the episode -- the returns of the classic Mondasian Cybermen and John Simm as the Master -- were both spoiled by the BBC's own promotional material! How frustrating."
Den of Geek
, while also bemoaning the number of spoilers released for publicity reasons, felt the episode was impressive.
"I thought World Enough And Time was at several times quite superb. Director Rachel Talalay and Steven Moffat are clearly a potent creative combination, and the middle of the episode in particular, as Bill creeps through a hospital evoking memories of The Empty Child and Asylum Of The Daleks was tonally outstanding."
Games Radar
enjoyed the episode but felt the pacing in the middle act was too slow.
"The sections with Bill in the hospital and the pre-Cybermen converts are utterly fantastic in terms of pure sci-fi, with the scares bordering on unwatchable for young children but it's just too slow and filled with exposition."
IGN
enjoyed the exploration of the characters of the time lords in the story
"Much is also done to explain the bond between Missy and the Doctor. It does make sense that the enormous life experience of Time Lords would lead to a connection between them that other species could never fathom. But that relationship will be tested during the climax of the episode -- and in next week's finale, no doubt"
AV Club
felt the story was bursting with ideas.
"None more fascinating than a massive colony ship caught in different time zones because of the gravitational distortion of a black hole. There's the mad conceit of having Missy pretend to be the Doctor, with Michelle Gomez pulling off the seemingly impossible by making a whole string of "Doctor Who" gags not utterly cringeworthy. There's the horrific plight of those stuck at the decaying bottom of the ship, which gets closer than any family-friendly Doctor Who story ever has in understanding the true body horror the Cybermen represent."
Ars Technica
felt it was a return to form for the series.
"We're back on firm ground with World Enough and Time. It's a very strong episode that manages to weave an agreeable timey-wimey spaceship yarn into the climax of this season's gently brewing Missy story, complete with Cybermen. The big reveal doesn't disappoint, either"
Finally,
Flicking Myth
thought the episode was one of the best.
"You know when you're watching a fantastic episode of Doctor Who when the credits roll up at the end and you're convinced that forty-five minutes can't have passed that quickly. World Enough and Time plays with your emotions from start to finish, from the opening moments where your jaw falls and is left-hanging, and to Missy owning the show ,and again we're back to silence as we're left in a state of true shock."
Doctor Who News Review can be found
here
.
Friday, 23 June 2017 - Reported by Marcus
This week BBC One will show
Doctor Who
at
6.45pm
.
Main Broadcast Details
United Kingdom
BBC One
Sat 24 Jun 2017
6:45pm BST
Middle East
BBC First
Sat 24 Jun 2017
9.20pm AST
(Sat 7:20pm BST)
United States of America
BBC America
Sat 24 Jun 2017
9:00pm EDT
(Sun 2:00am BST)
Canada
SPACE
Sat 24 Jun 2017
9:00pm EDT
(Sun 2:00am BST)
New Zealand
PRIME
Sun 25 Jun 2017
7:30pm NZST
(Sun 8:30am BST)
Finland
YLE2
Sun 25 Jun 2017
11.25pm EEST
(Sun 9:55am BST)
Australia
ABC
Sun 25 Jun 2017
7:40pm AEST
(Sun 10:40am BST, also on ABC ME)
Brazil
SyFy
Sun 25 Jun 2017
8:00pm BRT
(Mon 12:00qm BST)
Latin America
SyFy
Sun 25 Jun 2017
10:00pm CDT
(Mon 4:00am BST)
Full listings
here
Thursday, 22 June 2017 - Reported by Chuck Foster
Candy Jar Books
have announced the next in their range of
Lethbridge-Stewart
novels:
The Dreamer's LamentWritten by Benjamin Burford-JonesCover by Martin Baines
While visiting his mother, Lethbridge-Stewart is a little perturbed when Harold Chorley calls to ask for his help. A train has gone missing near Bristol, and Chorley is convinced it has something to do with the Keynsham Triangle, where over fifty people have vanished without trace since the early 1800s.
Elsewhere, Anne Travers is coming to terms with a loss in her family, and sets about preparing for a funeral. However, news reaches her that both Lethbridge-Stewart and Chorley have gone missing, and her help is required to find them. And, hopefully, solve the mystery of the Keynsham Triangle.
What connects the missing train to the Triangle, what has it got to do with a Wren from World War II, and just why does it appear that Lethbridge-Stewart and Chorley are in the village of Keynsham in 1815?
The answers lie in the Dreamer's Lament, and a strange being called the Loa.
The Dreamer's Lament
is written by newcomer to the range,
Benjamin Burford-Jones
, who previously wrote the children's novel
Beware of the Mirror Man
for Candy Jar Books. It originates from an unpublished Second Doctor novel Ben wrote several years earlier, and was an early contender in the
Lethbridge-Stewart
series, as range editor
Andy Frankham-Allen
elaborates:
Shaun (Russell, head of publishing) brought the story to me during the early days of the series, but it took me a while to get to it. I was impressed by the core story, and realised that an almost page-one rewrite would be needed, but there were enough key elements contained in the original story for me to see how it would fit Lethbridge-Stewart. The hardest part to work out was the time travel aspect.

Ben was more than happy to rework the story:
When I was asked to adapt my unpublished book, how could I resist the challenge? It was an honour to add to the continuing adventures of Lethbridge-Stewart. Of course, I couldn't resist setting the adventure in my home town of Keynsham.

When I first saw the wonderful artwork, I was over the moon. The cover sums up the story perfectly. It was almost as if Martin had read my mind.

The cover art in question is by
Martin Baines
, creating his second piece of
Lethbridge-Stewart
work after last year's
Times Squared
. Martin says:
I really wanted to do justice to such imaginative story. The mixture of voodoo and time travel, plus zombie animals makes this a story a gift for a cover artist. Coming from an advertising background I usually draw cute dogs and cats, so I found that the main focal point of the cover was a real test for me having to make them as horrific as possible.

The Dreamer's Lament
has a foreword by Shaun:
I've known Ben for thirty-two years, after a chance meeting at a Bristol sci-fi shop. Alongside Doctor Who, Ben has always had an interest in all things zombie. He has even made his own zombie puppet. It seems quite natural for him to combine his two loves in this book.

The novel is available for pre-order now, individually, as part of the discounted UK bundle, or as an international bundle. It is also available as part of a yearly subscription offer - full details can be found via
Candy Jar's website
.
---
In addition, Candy Jar is launching its very first Summer Bumper Sale. Deals include:
2 for 1 on selected Lethbridge-Stewart novels
2 for £10 on selected Candy Jar titles
Low-low discounts on selected other books
Plus a couple of freebies available too!
For more information please visit
their website
.
Wednesday, 21 June 2017 - Reported by Marcus
The cover image for a seasonal edition of the Hargreaves Dr series,
Dr. Tenth: Christmas Surprise!
has been released.
The new book features Adam Hargreaves' take on David Tennant's Tenth Doctor, seen here for the first time in his iconic Mr Men style!
Continuing the greatest mash-up in the Whoniverse with a Christmas adventure, the Tenth Doctor stars alongside much-loved companion Donna.
Dr. Tenth: Christmas Suprise will be published on
17th October 2017
and is now available for pre-order from
Amazon
Wednesday, 21 June 2017 - Reported by Marcus
The TARDIS doesn't just travel through time – stories set in space have been an essential part of Doctor Who for six decades. The inhospitable void between the stars has served as the backdrop to epic space operas and nerve-racking thrillers, while harboring some of the most fearsome adversaries the Doctor has ever encountered.
Panini's latest entry in the Essential Doctor Who series navigates a revealing course through the space lanes of Doctor Who, with all-new articles, rare images and exclusive interviews with:
Bob Baker (co-writer of The Three Doctors, The Invisible Enemy and many more)
Nick Bullen (costume designer for The Space Pirates)
Jamie Mathieson (writer of Oxygen)
Pat Mills (comics legend and co-writer of The Song of the Space Whale)
Hayley Nebauer (costume designer for the 2017 series)
Louise Page (costume designer for the Ninth and Tenth Doctors)
Charles Palmer (director of Oxygen)
Sid Sutton (Doctor Who title sequence designer)
Other highlights include a look at the groundbreaking model shoot for The Trial of a Time Lord, a fresh insight into the career of the show's original story editor David Whitaker and guides to acclaimed stories such as The Daleks' Master Plan and The Ark in Space.
Editor
Marcus Hearn
says:
Oxygen showed that space is one of the most hostile environments the Doctor has ever visited. This issue goes behind the scenes on that episode, and many of the preceding stories that belong in the same tradition. Bring a smartsuit – it's dangerous out there!
The Essential Doctor Who: Adventures in Space is on sale now price £9.99.