Issue 539 of
Doctor Who Magazine
includes an exclusive interview with Thirteenth Doctor
Jodie Whittaker
.
This issue also includes:
The latest Production Notes from showrunner Chris Chibnall.
Former Doctor David Tennant discusses Jodie Whittaker.
Howard Burden recalls designing costumes for three different Doctors.
The second part of a candid interview with 1980s script editor Eric Saward.
What topped the DWM season poll? We reveal the results!
We talk to the team behind the Blu-ray special edition of 1973's Planet of the Daleks.
The Fact of Fiction explores the 2005 story The Long Game.
Eric Saward previews his novelisations of Resurrection and Revelation of the Daleks.
Is Doctor Who a kids' show? The Time Team decides.
How to recreate the Second Doctor's 'cosmic hobo' style.
The final part of Herald of Madness, a comic strip adventure featuring the Thirteenth Doctor and her friends.
The Blogs of Doom, audio reviews, previews, news, prize-winning competitions and much, much more!
DWM 539 is on sale from
30 May
, priced £5.99.
---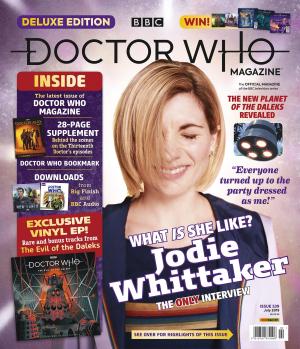 DWM 539 is also available as a strictly limited Deluxe Edition, exclusive to
WH Smith
and
store.panini.co.uk
priced £9.99.
In addition to the latest issue of DWM, the Deluxe Edition includes:
An exclusive vinyl EP featuring rare and bonus tracks from The Evil of the Daleks.
A 28-page supplement about the making of the Thirteenth Doctor's episodes, packed full of new information and previously unseen pictures.
Downloads from BBC Audio and Big Finish.
A Doctor Who bookmark.
And more.