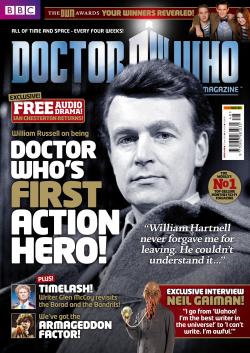 The new issue of
Doctor Who Magazine
features Sixties hero
William Russell
on its cover, while inside, the actor, who played science teacher Ian Chesterton in 78 episodes of
Doctor Who
, talks about his time on the series and his relationship with the actor who played the First Doctor.
William Hartnell never forgave me for leaving. He couldn't understand it, which was nice in a way. He said to me, 'What's the matter with you? You've got three kids, you've got a job, we're having a great time – what more do you want?!' 'I want to do a play, Bill.' He didn't understand that. Maybe he was right. But he never forgave me for jumping ship.
Also in this issue:
Doctor Who Magazine, in association with Big Finish Productions, presents an exclusive brand-new audio adventure starring William Russell. The Revenants, written by Ian Potter, features the First Doctor, Ian, Barbara and Susan and is available free to all readers this issue.
The votes have been counted and the winners of DWM's annual poll are announced. Which stories, actors, authors and directors came out on top in 2011?
Author Neil Gaiman, writer of the acclaimed 2011 episode The Doctor's Wife, talks about writing the story and reveals the secrets of the scenes you didn't see.
Doctor Who's commander-in-chief, Steven Moffat, writes for DWM in Production Notes and tells of the sad day on which Karen Gillan and Arthur Darvill recorded their very last scene as departing companions Amy and Rory.
Glen McCoy, author of 1985's time-twisting Timelash, talks to DWM about writing the Sixth Doctor's infamous adventure and his early career in television.
It's 1982 and the Fifth Doctor takes the helm of a crowded TARDIS and navigates the series into a new era as our voyage through five decades of Doctor Who continues with 1982's Season 19 in Countdown to 50.
DWM goes behind the scenes of the making of a brand-new Doctor Who spin-off audio drama series from Big Finish Productions. Counter Measures features characters from 1988's Remembrance of the Daleks, and DWM talks to actors Pamela Salem, Simon Williams and Karen Gledhill, who reprise their roles after more than 20 years.
The Eleventh Doctor, Amy and Rory get involved in some very organised crime on an alien world as they embark on a brand-new adventure, The Cornucopia Caper, written by Scott Gary and drawn by Dan McDaid.
As the hunt for the Key to Time comes to a dramatic climax, the Fourth Doctor, Romana and K9 face the ultimate forces of darkness in The Armageddon Factor. The Fact of Fiction examines this six-part adventure from 1979 and uncovers some fascinating new facts . . .
As well as all broadcast episodes of Doctor Who, there are a multitude of scripts and story ideas that never made it to the screen. Some of these are now being produced as audio dramas, but would it have been better to let the stories rest in peace and make brand-new adventures for the Doctor instead? Toby Hadoke and Johnny Candon debate the pros and cons.
The Time Team slick their hair back and join the Doctor and Rose in post-war London where the alien Wire is riding the airwaves of the nation's TV broadcasts. Join Chris, Emma, Will and Michael as they bathe in the warm glow of 2006's The Idiot's Lantern.
The cunning Watcher challenges readers with The Six Faces of Delusion, outs another Supporting Artist of the Month and examines Doctor Who's use of the definite article in A History of Doctor Who in 100 Objects.
Plus all the latest official news, TV and merchandise reviews, previews, competitions and a prize-winning crossword.