Sunday, 8 October 2017 - Reported by Marcus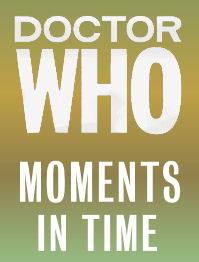 It was Forty years ago today, on
Saturday 8th October 1977
, that we first met the Doctor's 'Tin' Dog, when K-9 made his debut appearance in Doctor Who.
K-9 was the invention of writers
Bob Baker
and
Dave Martin
, who created the character for their fourth Doctor story
The Invisible Enemy
. Although originally intended to appear in that one story, the character was retained after producer
Graham Williams
saw its potential appeal to younger fans of the series.
K-9 was voiced by
John Leeson
, who had been contracted to provide the voice of the Nucleus for the story and was also asked to voice the robot Dog. Apart from Season 17, when the character was voiced by
David Brierley
, Leason has voiced the character ever since.
Making the character a permanent member of the crew was not without its problems for the production team. The radio controlled model was prone to operational problems in the studio and Directors found it difficult to compose a shot comprising the lanky frame of Tom Baker and the squat shape of K-9. However, the character did prove popular with the audience and rapidly became an icon of the series,
A new improved model was introduced at the start of season 16, with improved electronics, but the character still had its limits, being written out of some stories altogether.
When
John Nathan Turner
took over as the producer in 1980, he decided to have the character written out, and at the end of the story
Warrior's Gate
, K-9 finally left the Doctor. Just a year later the character was back, alongside former companion
Elisabeth Sladen
, in a one-off adventure
K-9 and Company
. The first television spin-off from the main series of Doctor Who.
K-9 made a final classic series appearance in the twentieth-anniversary story
The Five Doctors
.
It was in 2006 that the character returned to the screen in the revamped version of Doctor Who in a story by
Toby Whithouse
. School Reunion also brought Sarah Jane Smith, in the person of Elisabeth Sladen back into Doctor Who, an appearance that would lead to the commissioning of The Sarah Jane Adventures, also featuring the Robot Dog.
In 2010 an Australian produced series, featuring a redesigned K-9, was broadcast, consisting of 26, 30-minute episodes. The series was produced independently of the BBC, so no BBC owned characters could appear. The series was shown on Channel 10 in Australia and Channel 5 in the UK.
Forty years after his first appearance, K-9's character is still in production, with original co-creator Bob Baker, along with Paul Tams working on a feature film,
K9: TimeQuake
which will feature the robot dog up against classic Doctor Who villain Omega.