Saturday, 17 December 2016 - Reported by Marcus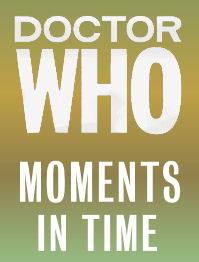 It was fifty years ago today, on
Saturday 17th December 1966
, that the Second Doctor met a young highland piper,
James Robert McCrimmon
, someone who would stay with him through the rest of his incarnation, becoming the longest serving companion in the history of the series.
Frazer Hines
has, so far, appeared in 116 episodes of
Doctor Who
. Only four actors, the first four Doctors, have appeared in more episodes. However, when Frazer Hines joined the company in November 1966, he had been contracted for one story only and was only expecting to feature in four episodes.
He would play the young piper Jamie in
The Highlanders
, set in the aftermath of the Battle of Culloden. During the production, the producers spotted something in the young actor and the chemistry he had with rest of the TARDIS crew, so after three weeks he was offered the chance to join the series as a regular character.
Scripts were hastily rewritten and a guide to the character of Jamie produced for potential writers.
He is a piper, and the character must be that of a simple but engaging Scot. Although his smile disarms opposition, he is on occasion a man of action who will defend his friends or principles fearlessly. He is cheerful, open, manly, flexible - more flexible in fact than Ben and Polly.
When either Ben or Polly are pulling his leg he reacts with a grin.... He always wears the kilt, his hair is longer and his shirt has a swashbuckling appearance.... He must assume the part of the young hero in each story. He must constantly be amazed and perplexed that he is wandering through space and time and is coming up against things, even commonplace things, which he could never have dreamt of in his day. The large things, planes computers etc, rock him back on his heels, he finds it hard to comprehend the all
He brings many of the attributes of the Highlander of this period with him, being courageous, impetuous, superstitious and romantic. His impetuosity often provokes difficult situations for the time travelers, but his direct approach will sometimes help solve problems as well as create them.
Frazer Hines was just 22 when he joined
Doctor Who
. However, even at that age, he was a veteran of film and television acting.
He had studied at the Corona Theatre School and before he became a teenager he had already appeared in a number of films. At 13 he appeared in Charlie Chaplin's
A King in New York
. He made his TV debut in 1957 playing Mickey Day in an episode of
London Playhouse
. He joined the series
Huntingtower
playing Napoleon alongside
Roger Delgado
a future Doctor Who director
Graeme Harper
.. Appearances followed in the war drama
The Silver Sword
,
Queen's Champion
and
Run to Earth
as well as a number of small roles in classics such as
Z-Cars, Dr Finleys Casebook, Compact, Emergency-Ward 10, Coronation Street
and
King of the River
.
He first worked with
Patrick Troughton
when he was cast in
Smuggler's Bay
based on the
J. Meade Falkner
novel,
Moonfleet
. The two instantly hit it off and when Hines joined Doctor Who three years later it was apparent how well they worked together. Talking in 2009 Hines explained how he was told he would be continuing in the series after being offered a lift home by Producer
Innes Lloyd
.
He was a gentleman, a real gentleman of television. He was an ex-Navy man. I always remember him picking me up at location one day, saying 'Come back with me, don't go in the mini-bus'. He had a little VW beetle, we were driving back, he said 'Well, Frazer, you're settling in okay, how do you fancy joining the old TARDIS crew for a while, maybe another year?'
Frazer Hines would stay with
Doctor Who
for three series, leaving, along with Troughton in the summer of 1969.
I'd never have left, I was having so much fun, but I had an agent at the time who was saying 'You must leave, you've done three years of television, you need to do films', and Patrick's wife at the time was saying (to him) 'You're a much better actor than children's teatime television, you should be doing bigger things', and I still say to this day, if he hadn't had that woman nattering in his ear, they'd have had to shoot us and drag us kicking and screaming out of the TARDIS, we'd still be there now.
Sources: The Handbook: The Second Doctor: David J Howe, Mark Stammers, Stephen James Walker (Doctor Who Books, 1994)