Saturday, 29 October 2016 - Reported by Marcus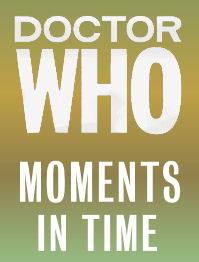 It was fifty years ago today, on
Saturday 29th October 1966
, that we bid farewell to the First Doctor.
At exactly 50 minutes and 47 seconds past five, 7.5 million viewers tuned into BBC 1 to hear the theme music ring out and the last
William Hartnell
episode begin. 24 minutes later it was all over. We had a new Doctor.
William Hartnell had appeared in 127 episodes of Doctor Who, appearing in 29 stories. He would return to the series in 1972, in four episodes of The Three Doctors. To date only one actor, Tom Baker, has appeared in more Doctor Who episodes than Hartnell, whose episodes, if played sequentially, would last for 2 days. 8 hours and 1 minute.
Fifty years on, William Hartnell's influence is still felt in the series, and in the character he created. His final episode has been lost, but one sequence survives. It is perhaps the most important sequence in the series history. The regeneration. With that one scene, the programme's future was guaranteed. The series could outlive its creators. Its immortality was assured.