Thursday, 31 August 2017 - Reported by Marcus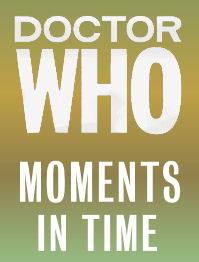 Fifty years ago today, on
Thursday 31st August 1967
, sixpence would buy you the new issue of Radio Times, and for the fifth time
Doctor Who
featured on the front cover.
Previous covers had marked the start of
Marco Polo
,
The Web Planet
,
The Chase
and
Power of the Daleks
, but this was the first cover to herald the start of a new season for the programme, returning in the coming weekend for its fifth year.
The focus of the cover was firmly on the adversaries the Doctor would face in the new series. The Cybermen were returning for the third time in less than a year. Inside an article promised new adventures along with a new threat, the Cybermats.
Doctor Who had undergone a complete transformation over the past year. When Season four began in September 1966
William Hartnell
was still clinging onto the controls of the TARDIS, along with companions Ben and Polly, played by
Anneke Wills
and
Michael Craze
. Now twelve months later there was a completely new team in the ship led by
Patrick Troughton
, aided by the young Scottish piper Jamie McCrimmon played by
Frazer Hines
, and the recently orphaned girl from the 19th Century, Victoria played by
Deborah Watling
.
The risk of recasting the series had paid off and the series had built a loyal following who would await each adventure to unfold on Saturday Evenings. Ratings had stabilized with around 7 million tuning in each week, up from the 5 million the series was getting at the end of the Hartnell era. Audience appreciation was also up by around 10 points to average in the high fifties.
Behind the scenes, change was also afoot. Producer
Innes Lloyd
was keen to move on having been in charge of the series since April 1966. He was lining up actor and writer
Peter Bryant
as his replacement.
One loss the production team was having to deal with was the decision of Terry Nation to withdraw the use of the Daleks from Doctor Who and new monsters were needed. Over the next year, viewers would be introduced to The Ice Warriors and the Yeti. As season five launched, the first story of the series was safely on tape, having been recorded at the end of the Season Four production block. After a short holiday, the Team would soon be spending a week in Snowdonia, filming scenes for the upcoming story
The Abominable Snowman
. Before long they would be back in the comfort of Lime Grove Studio D ready to slip back into the old familiar pattern of 4 days rehearsal before recording each episode on a Saturday evening.
In 1967 Saturday night television looked very different to today. After live sport in Grandstand,
Juke Box Jury
assessed the hits of the day.
Doctor Who
then led the BBC 1 Saturday evening schedule, which was still very much dominated by American imports.
Match of the Day
carried the football highlights and after a talk on the history of the
Trade Union Movement
, the station closed down and the nation went to bed at 11.15pm.