Candy Jar Books
have announced the launch of a
website
dedicated to the character of Brigadier Alistair Gordon Lethbridge-Stewart.
Head of publishing,
Shaun Russell
, said:
With the fiftieth anniversary approaching we wanted to do something special for the fans. This website collects together everything you need to know about the Brigadier and we plan to add much more content as the months roll by.

The site has been designed by
Richard Young
of North East Design Consultants:
Creating a website for Candy Jar is one of the most enjoyable projects I have ever been involved with. There are so many different elements to the site. It's something you can easily get lost in and thoroughly enjoy exploring.

Candy Jar's Publishing Coordinator,
Lauren Thomas
, added:
With the fifth Lethbridge-Stewart season due soon, Richard has managed to create a website which celebrates our beloved Brigadier. The site contains interviews, forums, and never-before-seen material, and the chance to sign up to a newsletter and download a variety of free stories.

Editorial Co-ordinator,
Will Rees
, said:
Since we launched the books we've had lots of questions and comments from fans about the Brigadier's time in Doctor Who, as well as our novels. We wanted this site to keep readers completely up-to-date with every aspect of the series, explore the mythology of the Brig, and act as a news portal for new releases.

The site will continue to be developed, with updated on upcoming books in the series added in due course. Alongside this, information about
The Lucy Wilson Mysteries
, a separate series about the Brigadier's granddaughter, is also available.
The Lethbridge-Stewart website can be found
here
.
---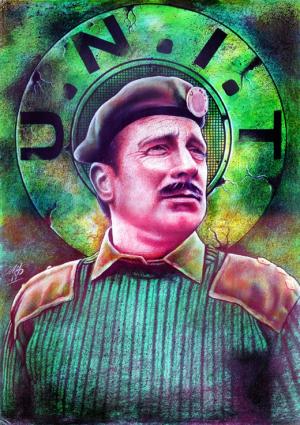 To celebrate the launch of the website, Candy Jar Books is offering readers a chance to win a one-of-a-kind Lethbridge-Stewart original painting created by Richard Young. To enter the competition, just visit the new website and enter Candy's Jar poll to vote for your favourite book, short story and cover design, and then you will automatically be entered into the prize draw.