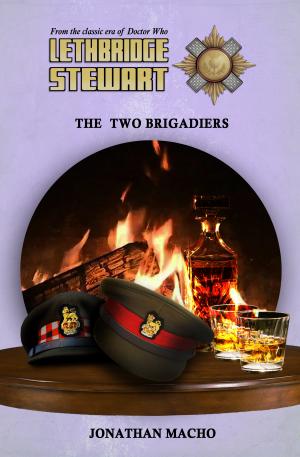 Candy Jar Books
has announced its third free Lethbridge-Stewart short story of 2017, to accompany the newly released
The Daughters of Earth
:
The Two Brigadiers:

It's 2001 and Brigadier Sir Alistair Lethbridge-Stewart is feeling restless, his mind still on his recent adventure with the Doctor and Morgaine. But then there is a knock at the door and a familiar face asks for his help in finding an old friend who has gone missing!

The book has been written by newcomer
Jonathan Macho
, who was a runner up in the South Wales Short Story Competition of 2015, run by Candy Jar Books. His first encounter with Candy Jar Books came in 2014 at their Summer Book Festival.
Range Editor
Andy Frankham-Allen explains
:
I was doing a talk on how to write the perfect short story. Jonathan was in the audience, one of those who stood out, with a very obvious interest in Doctor Who. When I saw his submissions for the short story competition, I paid particular note. Indeed, I was the one who put both his stories forward for the final short list. In the event only one was picked as a runner up. There was an interesting humour to his stories, which were technically very good too. So, from that point I knew it was only a matter of time before I asked him to submit an idea to Lethbridge-Stewart.

Jonathan says:
After running-up in the South Wales Short Story Competition, I was just excited to have a publication under my belt. I had no idea it would lead to such an incredible opportunity, until Andy asked if I would like to work on a story for the range. Needless to say, he didn't have to ask twice!

Andy continues:
I first needed to find out how wide his Who knowledge was, as often a lot of the younger fans are less familiar with the series pre-2005. Fortunatley he was one of those uber fans that knew everything, and so I asked him to pitch an idea set sometime after the 1989 television serial, Battlefield (which takes place in the late 1990s).

Jonathan adds:
The fact that my story is set during one of my favourite eras of Who is the icing on the proverbial cake! Just as I was trying to stay as true to his character as possible, the Brig here is trying to find his feet in a life he was meant to have left behind. Said life just so happens to involve clandestine reunions, strange happenings and infamous monsters of course. Who would want anything else?

The Two Brigadiers
also includes an mini-short written by Andy Frankham-Allen called
When Times Change...
, in which Sir Alistair himself remarks upon the announcement of Jodie Whittaker, the new Doctor Who!
The book will be sent out free to everybody who purchases (includes any bundles or subscription featuring...) this month's release,
The Daughters of Earth
by
Sarah Groenewegen
. This is the second novel in series four, focusing on a subject matter than is still topical. Sarah says:
There are echoes of what's happening now and how women organise. The intersections of class, race, outsiders versus those within the establishment – how prone they are to infiltration. I wrote the book during the US presidential elections, which kept being a touchstone to how far women have come to be treated as human beings with agency and a reminder as to how quickly reactionary politics can assert itself.

The Daughters of Earth
is available to buy individually or as part of a bundle from
Candy Jar Books
.