Candy Jar Books
have announced their latest e-book in the
Lethbridge-Stewart
range for Halloween, free to anybody pre-ordering the next main book in the range,
Times Squared
: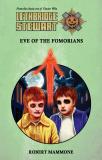 Eve of the FomoriansWritten by Robert MammoneCover by Paul Cooke
All Hallows' Eve, 1969. En route back to Edinburgh, Anne Travers, William Bishop and Samson Ware come across a deserted village in the Scottish countryside. A village that is rotten to the core.
Range Editor
Andy Frankham-Allen
, says:
I was already familiar with Rob's work, so when he emailed us out of the blue asking if we would consider him for our Short Story Incentive scheme, I was very willing to give him a shot. And he just happened to enquire as we were about to seek out a story for Halloween.

Robert Mammone
says:
Once I knew it was going to be set around Halloween, I knew I wanted to do a Quatermass inspired story, with definite horrific elements, sourced back to a scientific explanation/basis.

Shaun Russell
, head of publishing at Candy Jar, says:
There is something very John Wyndham about the story, which I know Andy especially appreciates, as do a lot of our readers.

This story is set shortly after
Times Squared
: Andy says:
Although you can easily read it without having read Times Squared, as it features Anne, Bishop and Samson who are not in that novel. Although it references Times Squared, it does so in a way that will not spoil that novel one bit. It also has a nice callback to the first novel of this year, Moon Blink. All that said, it is very deliberately written to be read on its own, with your feet up, candles lit and the rain lashing against the window.

Times Squared
can be pre-ordered from the
Candy Jar website
.
---
The limited edition print-collection
The HAVOC Files
is now available to
read on Kindle
.