Candy Jar Books
have announced details of the first novel to be released in the third series of
Lethbridge-Stewart
adventures: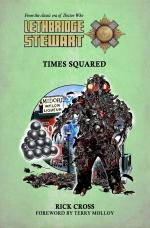 Times SquaredWritten By Rick CrossCover by Martin BainessPublished by Candy Jar Books end October 2016
When Brigadier Lethbridge-Stewart, his fiancée Sally Wright, and nephew Owain Vine, embark on a much-needed holiday to New York City, the last thing they expect to find is a puzzling mystery involving coma patients, a stranger from a distant land and a dark menace lurking in the bowels of the city's labyrinthine subway system.
Before long, they're battling an ancient evil pursuing a deadly campaign of terror that could bring Manhattan under its control... and the world to its knees.
The book sees the return of the Great Intelligence, last seen on television during Series 7 and influential to the
Lethbridge-Stewart
range from the very start. Range Editor
Andy Frankham-Allen
said:
For
(the first novel)
The Forgotten Son
I was interested in wrapping up the story of the Great Intelligence as seen in Moffat's trilogy, and exploring something of its origins. So now it's time to go back to the Intelligence as depicted in the original Haisman/Lincoln stories. Ever wondered what happened to it in those long years between
The Web of Fear
and
The Snowmen
, and how the 1995 straight-to-video film,
Downtime
, fits in? Well, now it's time to start finding out.
Times Squared
, written by first-time novelist
Rick Cross
, takes place some eight months after
The Web of Fear
, transferring the Yeti from the London Underground to the underground network of New York.
Shaun Russell
, head of publishing at Candy Jar, said:
I had the idea of the Yeti roaming through Times Square, plaguing the immense underground of New York. And by throwing in a bit of time travelling shenanigans, the title was an obvious one.

Andy continued:
After Shaun came to me with the basic idea, it was quickly decided we wanted, ideally, an American author to write it. I turned to Rick Cross, an aspiring US author I knew via social media. We talked and he jumped at the chance. We spent a short while discussing story ideas, telling him the elements I wanted, and he came to me with a few ideas of his own. And it has turned out rather brilliantly; the first bona-fide sequel to The Web of Fear, dealing with the Intelligence from that story, as well as a story that brings back Owain, Lethbridge-Stewart's nephew, last seen in Beast of Fang Rock. A character with a very special relationship to the Intelligence.

Rick said:
It's been an exciting opportunity. Hard work, trying to remember the British rules of grammar, but I've enjoyed telling my story and delving into the relationship between Lethbridge-Stewart, his fiancée, Sally, and his nephew, Owain. Owain in particular has been fun, exploring his freedom of spirit, and his destiny – which is, one day, to be reincarnated into the person who will ascend to be the Intelligence.

On bringing back the Yeti, he continued:
I had this brilliant idea about the rats in the sewers of New York, and their connection to various plagues throughout the years. What if one such plague was the result of the Intelligence? Coupled with that was my desire to explore the origins of the Yeti. Who made them? How did so many of them get to be in the London Underground in The Web of Fear? Remember, in that story it is revealed that Travers only brought one of them back from Tibet with him. Hopefully Times Squared will provide fans with an interesting take on that, as well as expanding the mythology surrounding the Intelligence and Yeti.

The novel also links in to the BBC's range of Eighth Doctor Adventures from the 1990s by the inclusion of character Adrienne Kramer, the future brigadier-general of the US arm of UNIT who made her official
Doctor Who
debut in the 1997 novel
Vampire Science
by Jonathan Blum and Kate Orman. Andy said:
Ever since first reading about this character in 1997 I've wanted to use her; indeed, she featured in an unpublished Doctor Who novel I wrote in 1998. Her connection to UNIT, and consequently the Brigadier, has been something I've wanted to explore since day one of this series. In particular to show the origins of how she came to know Lethbridge-Stewart and what piqued her interest in all things alien.

Rick added:
It was a wonderful opportunity. Andy set it all up, put me in touch with Jon, who compiled a detailed background document for the character. I had never heard of Kramer, but did my research, and it has been brilliant writing for her, exploring the young woman she was in 1969, long before she became the tough soldier in Vampire Science. I've been very blessed to play with all these wonderful much-loved Doctor Who characters in my book, and add one of my own creations to the mythos of Doctor Who.

Cover art is provided by
Martin Baines
, whose portfolio includes the
Wallace & Gromit
comic,
Commando
,
The Beano
, and more recently
Thunderbirds Are Go
magazine. Martin said:
As soon I was briefed on the key scene in the book, Yeti robots covered in rats coming out of the New York underground, I was onto a winner with the cover. This horrific, stark image along with the brilliant writing by Rick Cross makes this a worthy continuation to the classic Web of Fear.

The book includes a forward by
Terry Molloy
, narrator of the first series of
Lethbridge-Stewart
audiobooks (and best known in
Doctor Who
for his 1980s/Big Finish portrayal of Davros).
Times Squared
can be pre-ordered individually or as part of the Series 3 Bundle (both UK and overseas), which will include the forthcoming novels
Blood of Atlantis
by Simon A Forward and
Mind of Stone
by Iain McLaughlin. There is also a subscription deal for those wishing to get six books for the price of five (UK only, covering the series three titles, plus the series four titles released early 2017)! Pre-orders are available directly from
Candy Jar Books
.
A free digital-only short story,
The Wishing Bazaar
by Sharon Bidwell, will be given out to all pre-order/subscription customers in October.