Candy Jar Books
have announced a special free digital release in the
Lethbridge-Stewart
range,
The Last Duty
, a tribute to real-life WAF
Eileen Younghusband
who features in the book.
Born in London, Eileen joined the Women's Auxiliary Air Force during WW2 and worked in the Filter Room, the top secret hub of Britain's air defence. It was during this time that Eileen tracked the first V2 rocket into the country!
A life size figure of Eileen as a twenty-one-year-old WAAF officer stands in a replica of a filter room at the Battle of Britain museum at Bentley Priory. Her advice on the WAAF was sought by historians, documentary makers and even a Hollywood scriptwriter.
Her television appearances included the BBC series, Britain's Greatest Generation, Channel 4's WW2: The Last Heroes, and the ITV Wales programme, Welsh Heroes of World War Two, as well as BBC's Breakfast, The One Show and Eggheads. Her book – One Woman's War – won a People's Book Prize. Her latest book – Eileen's War – was written for children and was completed and published only weeks before her death on 2nd September, at the age of 95.
Range Editor Andy Frankham-Allen says
We've had plans for a while to bring Eileen into the series, and the news of her death made us decide to make it happen sooner, to pay tribute to this great legend of World War II. It's not often one meets a bona fide hero in one's life, and the difference Eileen made to the security of the UK cannot be stressed enough; it was a natural thing to bring her into contact with the Doctor Who legend that is Lethbridge-Stewart.

The Last Duty
is set shortly after
The Grandfather Infestation
and is written by newcomer to the range,
Christopher Bryant
(editor/contributor to several
Doctor Who
related charity books like
You and Who
,
Seasons of War
and
You on Target
). He says:
Brigadier Lethbridge-Stewart has always been one of my favourite characters from Doctor Who, so it's a privilege to be part of bringing him back to have new adventures.

The PDF story features a cameo by Eileen, immortalised as the cousin of Derek Younghusband, a character created with Eileen's blessing for The Band of Evil, who appears in The HAVOC Files 2. Christopher continues:
I loved writing this story because it's a great mix of monster-filled action scenes with a more thoughtful examination of how we lead our lives. It's a particular honour to be able to pay tribute to Eileen Younghusband, who lived such an amazing life.

The free PDF, available from the
Candy Jar website
, also features excerpts from Eileen's War and One Woman's War.
Shaun Russell
, head of publishing at Candy Jar, says:
We have included these excerpts to illustrate how important Eileen was in the defence of Britain. Apart from arguably saving Winston Churchill's life, spending time with Dylan Thomas and acting as a guide at a Nazi concentration camp, I would encourage all fans to read these excerpts as a fascinating document of our times.

---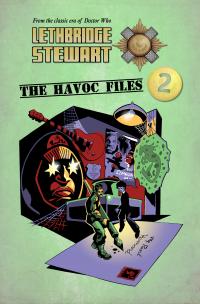 Meanwhile, the cover for the
The Havoc Files 2
has now been revealed, plus news that an additional tale will be included in the anthology. Shaun Russell, says:
With the previous volume we collected the many short stories published in 2015, but it was a little different this time since we have released fewer short stories this year. However, as we like to spoil our readers, we decided it would be nice to produce new exclusive material for the collection, as well as give a couple of extras. And, just to make this collection even more worthwhile, and collector's item, we've decided to add yet another story to the mix.

The Lost Skin
is a novella that is set concurrently with the forthcoming Lethbridge-Stewart novel,
Times Squared
, focussing on several of the regular cast of characters, including the return of journalists, Harold Chorley, Larry Greene and Charlie Redfern. More importantly, it also features the first full appearance of Professor Edward Travers, last seen in 2015's
The Schizoid Earth
, who heads to John o Groats to investigate a bit of Scottish lore.
Writer Andy Frankham-Allen says:
The plan was originally to release the novella alongside Times Squared, but time kind of ran away from me, so I suggested instead we release it as part of The HAVOC Files as a three-part story over three volumes. I mean, who doesn't like a cliffhanger or two?

The cover is by
Adrian Salmon
, who faced the challenge of how to touch upon the various stories and yet still have a striking image to attract readers' attentions. He says:
A unifying cover idea for a mix of stories was never going to be easy but the central idea of an incredible shrinking Lethbridge-Stewart made small work of it!

The whole collection is dedicated to the memory of
Rhys Rubery
, friend of the range editor and
Doctor Who
fan, a sixteen-year-old who lost his life in a tragic accident in July 2016. You can find out more about Rhys, and how to support the RR81 Legacy by going to
this website
.
The HAVOC Files 2 is released at the end of September, and is available for pre-order directly from the
Candy Jar website
.
---
The next series of
Lethbridge-Stewart
begins in October with the release of
Times Squared
by Rick Cross, followed by
Blood of Atlantis
by Simon A Forward and
Mind of Stone
by Iain McLaughlin.