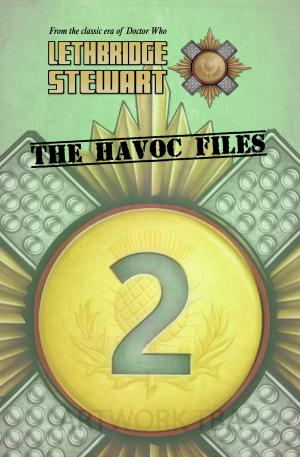 Candy Jar Books
have announced the release of the second volume of
The HAVOC Files
, collecting the short stories released during the first half in 2016 originally released as digital downloads.
The collection included the following titles:
In His Kiss
by Sue Hampton,
The Lock-In
by Sarah Groenewegen BEM,
The Black Eggs of Khufu
by Tom Dexter,
The Band of Evil
by Roger J Simmonds & Shaun Russell, and
The Playing Dead
by Adrian Sherlock. As with the previous volume, The HAVOC Files 2 also includes new stories exclusive to the book,
Ashes of the Inferno
by Andy Frankham-Allen, and
House of Giants
by Rick Cross.
As the new titles might suggest, the stories are related to two of the Doctor's television adventures. Writer
Andy Frankham-Allen
says of his book:
As the title suggests this story is connected to the 1970 serial Inferno; indeed it begins the same day the Doctor returns from the alternative Earth. A lot of readers have asked how the expanding mythology of the Lethbridge-Stewart series fits into the UNIT era of Doctor Who, and this story goes a little way to explaining that. But it's much more than just a response to readers' questions, it's a story about loss and coming to terms with losing everything that matters to you. A theme that I often come back to, and one that is even more poignant right now as only recently I lost a friend in very tragic accident. This story serves as something of a tribute to that young man, who was not only a friend but a huge Doctor Who fan, and the family he left behind, who are trying to cope with such a monumental loss.

The second brand new story picks up on a thread referenced in the most recent
Lethbridge-Stewart
novel,
The Grandfather Infestation
by John Peel, dealing with aftermath of the
Doctor Who
serial,
Planet of Giants
: Writer
Rick Cross
says:
Planet of Giants is a personal favourite of mine, an inventive and unexpected First Doctor experiment that has resonated in my mind since I first saw it, so it's been fun writing a sort of coda to it. I'm thrilled and honoured to bring the Brigadier and Anne Travers onto the scene of this classic Doctor Who story, and can't wait for fellow fans to see what awaits them there.

Candy Jar's Head of Publishing,
Shaun Russell
, comments on the newcomer to the range:
Rick was brought in by Andy, a result of successful networking on Facebook. We've been so impressed with Rick's abilities as a writer that we thought it'd be nice to have him write us a short story while Andy works on his forthcoming novel.

That novel will be
Times Squared
, written before
House of Giants
. Cross says:
I'm actually quite pleased that House of Giants will arrive ahead of Times Squared. I hope it will serve as an appetizer of sorts to the entree to come, one that will introduce Lethbridge-Stewart readers to my particular Yankee style, borne of a lifelong obsession with Doctor Who, sci-fi films and Stephen King novels. Hopefully, they'll come away eager to explore the labyrinthine streets of late-'60s New York City... and what lies beneath.

Two additional extras in the book include the original prologue from John Peel's
The Grandfather Infestation
- which reveals why the Ymir brought their Grandfathers to Earth in the first place - and the unpublished interludes from
The Showstoppers
by Jonathan Cooper. Range editor Andy Frankham-Allen says:
I decided to remove the interludes from the novel because, in my opinion, they slowed the pace of the story down too much. However, the background on Schädengeist and Commander Shepstone was too good to simply consign to the rubbish bin, so it's a great pleasure to make the interludes available as one short story.

As with the first volume, The HAVOC Files 2 will only be available as a strictly limited edition print run, and is can be pre-ordered directly from the
Candy Jar Bookstore
.
The next series of Lethbridge-Stewart begins in October with the release of
Times Squared
by Rick Cross, followed by
Blood of Atlantis
by Simon A Forward and
Mind of Stone
by Iain McLaughlin.
The whole collection is dedicated to the memory of Rhys Rubery, friend of the range editor and
Doctor Who
fan, a sixteen-year-old who lost his life in a tragic accident in July 2016. You can find out more about Rhys, and how to support the RR81 Legacy by
going to this website
.