Candy-Jar Books
will be releasing the fourth story in their Lethbridge-Stewart series of novels,
Mutually Assured Domination
by
Nick Walters
, on the
20th November
; those who pre-order the book before relaease date will also receive an additional free short e-story on PDF,
The Dogs of War
, by
Andy Frankham-Allen
.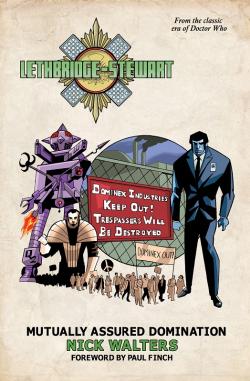 Mutually Assured DominationWritten by Nick WaltersCover by Adrian SalmonPublished on 20th November 2015
The Dominators, the Masters of the Ten Galaxies, have come to Earth, and brought with them their deadly robotic weapons, the Quarks!
It's the summer of '69. Flower power is at its height, and nuclear power is in its infancy. Journalist Harold Chorley is out of work, and Colonel Alistair Lethbridge-Stewart is out of sorts. Dominex Industries are on the up, promising cheap energy for all. But people have started going missing near their plant on Dartmoor. Coincidence, or are sinister forces at work?
Join Lethbridge-Stewart and uneasy ally Harold Chorley as they delve into the secrets behind Dominex, and uncover a plan that could bring about the end of the world.
As the synopsis suggests, this sees the return of journalist Harold Chorley.
Shaun Russell
, Head of Publishing at Candy Jar Books, said:
Ever since we secured the deal with the Haisman Estate, we've been planning to bring back Harold Chorley. He was such a pain in Lethbridge-Stewart's side in The Web of Fear it was a forgone conclusion that he'd return to give the colonel more grief. His return has been set up throughout the last few books, with hints as to his situation following The Web of Fear. Now we finally get to play it out properly, and Nick has done a great job with him!

The alien foe featured in the book is another creation of the Haisman/Lincoln partnership, as author
Nick Walters
observes:
I had a great time writing Mutually Assured Domination, taking as my inspiration the Cold War thrillers of John Le Carre and the 1985 BBC Drama Edge of Darkness. I have always loved the Dominators and their sinister robotic servants so it was great to be given the chance to make them live again! My favourite parts of The Dominators has always been the bickering between Rago and Toba and there's some of that in this book, in fact there is great comedy potential in the characters. But I also hope I have presented them as a credible threat and a worthy foe for Lethbridge Stewart. I hope people find my book is to be a good old-fashioned romp – and a wham-bam ending for the first 'season' of Lethbridge-Stewart novels!

The book also features a foreward by writer
Paul Finch
, who commented on the book's setting in the nuclear-overshadowed 1960s (and whose protagonists were themselves representative of that threat in the eponymous
The Dominators
):
In a twist that completely delighted me, (this book) is set in precisely that era: the late '60s, with the protest movement still at full power and the anti-nuclear ticket a hot one. It even has its own desolate wilderness – Dartmoor. Though of course at the heart of this wasteland stands not the Doctor, but his unofficial deputy on Earth (at least, that's always the way I used to think of him), and another fine creation of Messrs Haisman and Lincoln, Alistair Gordon Lethbridge-Stewart, better known as 'the Brigadier', though for our purposes today he's still a colonel."

Accompanying the main release is
The Dogs of War
, a short story by
Andy Frankham-Allen
that takes place between the previous novel
Beast of Fang-Rock
and
Mutually Assured Domination
, and features a historic meeting between Lethbridge-Stewart and Group Captain Ian "Chunky" Gilmore. The author commented:
Since day one of this series I have been mindful that there are certain milestones in Lethbridge-Stewart's life that need to be dealt with in these books in one way or another. His meeting with Gilmore is one of those. With the approval of Ben Aaronovitch, who created Gilmore back in '88, and with thanks to Andrew Cartmel (Doctor Who script editor 1987-89), we are finally able to make that happen with our own spin. Hopefully we'll offer fans a little bit more meet to their meeting. It's been a real joy bringing these two iconic characters together and letting them play in each other's sandpits – for one night only!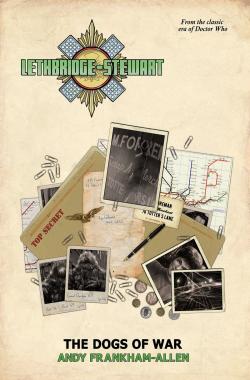 The Dogs of WarWritten by Andy Frankham-AllenCover by Will BrooksPublished on 20th November 2015
The London Event was only the beginning, or so Colonel Alistair Lethbridge-Stewart believed. Until he was ordered to meet with Air Vice-Marshal Ian Gilmore. It began in 1963 – for Gilmore, at least. But the alien codenamed Cosmic Hobo visited Earth a lot earlier than that.
It's not only Lethbridge-Stewart who wishes to learn the truth of these visits. He is being watched, and soon Lethbridge-Stewart and Gilmore find themselves in the deserted tunnels of the London Underground chased by a familiar furry form…