Candy Jar Books
have released a revised schedule for
Lethbridge-Stewart
, their range of books that follow the career of the character prior to him becoming UNIT's most memorable operative.
Unforeseen circumstances have led to a delay in publishing the second in the series,
The Schizoid Earth
. Author
David A McIntee
explained:
I'm sorry nobody's had a chance to read the book yet. I had hoped to be able to finish it earlier than originally planned so that it could be brought forward somewhat. A family bereavement has negated that hope (my mother-in-law died a few weeks ago) leading to all the irritating practical and bureaucratic interruptions you might imagine. The book, however, is nearly finished and will be coming very soon.

Hayley Cox
, publishing co-ordinator at Candy Jar Books, said:
We are determined to not let this setback affect the rest of this year's releases, and we are committed to getting four titles out by the end of 2015 as originally intended.

The revised publication dates are listed below, alongside their respective covers (including a new version of
The Schizoid Earth
by
Adrian Salmon
). The titles can all be pre-ordered directly from the
Candy Jar Books
website.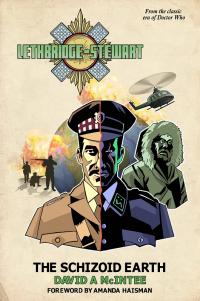 The Schizoid EarthWritten by David A McInteeCover by Adrian SalmonPublished on 25th September 2015
Lethbridge-Stewart was supposed to be in the mountains of the east. Things didn't quite go according to plan.
On the eve of war, something appeared in the sky; a presence that blotted out the moon. Now it has returned, and no battle plan can survive first contact with this enemy.
Plagued by nightmares of being trapped in a past that never happened, Lethbridge-Stewart must unravel the mystery of a man ten years out of his time; a man who cannot possibly still exist.
Why do the ghosts of fallen soldiers still fight long-forgotten battles against living men? What is the secret of the rural English town of Deepdene? Lethbridge-Stewart has good reason to doubt his own sanity, but is he suffering illness or injury, or is something more sinister going on?"
David A McIntee has written novels for Star Trek, Final Destination and Space: 1999 and over fifteen books and audio dramas for Doctor Who since 1993, including the Brigadier-centric novel, The Face of the Enemy. David said: "To be honest it (the series) is something I'm amazed hasn't been done before – it's just such a natural and obvious thing. The form it's taking is also cool because it has the flexibility to move between styles and genres – thriller, SF, horror, etc – while maintaining a definite identity. As for the Brig himself, he's one of those characters where the casting was so perfect that it just made the character so memorable, and who (usually) feels so right."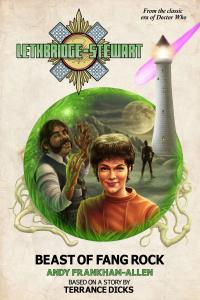 Beast of Fang RockWritten by Andy Frankham-AllenCover by Colin HowardPublished on 23rd October 2015
'There's always death on the rock when the Beast's about.'
Fang Rock has always had a bad reputation. Since 1955 the lighthouse has been out of commission, shut down because of fire that gutted the entire tower. But now, finally updated and fully renovated, the island and lighthouse is once again about to be brought back into service.
Students have gathered on Fang Rock to celebrate the opening of the 'most haunted lighthouse of the British Isles', but they get more than they bargained for when the ghosts of long-dead men return, accompanied by a falling star.
Colonel Lethbridge-Stewart is brought in to investigate what he believes to be signs of alien involvement. But it is not only Lethbridge-Stewart who has an interest in Fang Rock. Anne Travers is called to her family solicitor's, who have in their possession a letter from Archibald Goff, the paranormal investigator who once visited Fang Rock back in the 1820s, and along with it a piece of alien technology.
What connects a shooting star, ghosts of men killed in 1902 and the beast that roamed Fang Rock in 1823? Lethbridge-Stewart and Anne Travers are about to discover the answer first hand...
With a foreword by Louise Jameson, who played Leela, the Doctor's companion from 1976-1978.
Andy Frankham-Allen is the deputy editor at Candy Jar Books and has been a Doctor Who fan since his childhood. Andy is the former line editor of Untreed Reads Publishing's series Space: 1889 & Beyond, and has penned several Doctor Who Short Trip stories for Big Finish and Candy Jar's Lethbridge-Stewart: The Forgotten Son, as well as Companions: Fifty Years of Doctor Who Assistants. He said: "There's been such a warm reception to the first book I must thank everybody for all their kind words. My next book is a dream come true. It's an idea I've had rattling around in my head since 1998, so it's great privilege to be able to make it a reality, and even more so due to Terrance Dicks' involvement with it."
Mutually Assured DominationWritten by Nick WaltersCover by Adrian SalmonPublished on 20th November 2015
The late '60s. Global power balances are shifting and the peace movement, preoccupied with the Vietnam War after the Tet offensive, has perhaps taken its eye off the nuclear ball.
Certain 'outside interests' take advantage of this situation and soon the world is poised on the brink of nuclear armageddon.
It's up to Colonel Lethbridge-Stewart and uneasy ally journalist Harold Chorley to fight the forces of darkness and save the day.
Featuring the return of the Dominators and their weapons of mass destruction, the Quarks! Also features a forward by novelist Paul Finch.
Nick Walters has written five novels for Doctor Who since 1998. Nick said: "After the Doctor himself the Brigadier is the best-loved character in Doctor Who. I met Nick Courtney a number of times and he really is a splendid fellow. He brought a real humanity and vulnerability to the role without compromising the essential toughness of the character. Brigadier Alistair Gordon Lethbridge-Stewart is the chap you'd want on your side in a fight – any fight – and it is a real privilege to be exploring what made him into the character we came to know and love."
The story of Colonel Alistair Lethbridge-Stewart is fully licensed by the Executor of the Haisman Literary Estate, Mervyn Haisman's granddaughter Hannah Haisman, and endorsed by Henry Lincoln.