Candy Jar Books
have released the cover and details for their next book in the
Lethbridge-Stewart
saga: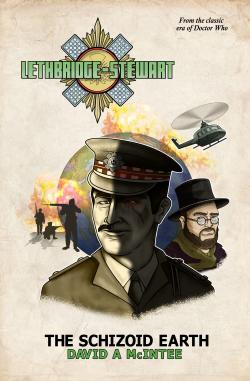 Lethbridge-Stewart: The Schizoid EarthWritten by David A McInteeReleased in June
Lethbridge-Stewart was supposed to be in the mountains of the east. Things didn't quite go according to plan.
On the eve of war, something appeared in the sky; a presence that blotted out the moon. Now it has returned, and no battle plan can survive first contact with this enemy.
Plagued by nightmares of being trapped in a past that never happened, Lethbridge-Stewart must unravel the mystery of a man ten years out of his time; a man who cannot possibly still exist.
Why do the ghosts of fallen soldiers still fight long-forgotten battles against living men? What is the secret of the rural English town of Deepdene? Lethbridge-Stewart has good reason to doubt his own sanity, but is he suffering illness or injury, or is something more sinister going on?
Author
David A McIntee
(who also wrote the Brigadier-centric BBC Book
The Face Of The Enemy
) said:
To be honest it
(the series)
is something I'm amazed hasn't been done before – it's just such a natural and obvious thing. The form it's taking is also cool because it has the flexibility to move between styles and genres – thriller, SF, horror, etc – while maintaining a definite identity. As for the Brig himself, he's one of those characters where the casting was so perfect that it just made the character so memorable, and who (usually) feels so right.
Cover art is by Cosgrove Hall's background artist,
Nathan Hudson
, and the book also features an exclusive foreword written by
Amanda Haisman
, daughter of Lethbridge-Stewart creator
Mervyn Haisman
, in which she publically talks about her father and the legend he created for
Doctor Who
.
The book is
available to pre-order
from Candy Jar Books.
---
Coming up later in the year are
Beast of Fang Rock
by
Andy Frankham-Allen
and
Terrance Dicks
, and
Mutually Assured Domination
by
Nick Walters
.
Frankham-Allen, who wrote the series opener
The Forgotten Son
, said:
There's been such a warm reception to the first book I must thank everybody for all their kind words. My next book is a dream come true. It's an idea I've had rattling around in my head since 1998, so it's great privilege to be able to make it a reality, and even more so due to Terrance Dicks' involvement with it.

Walters said:
After the Doctor himself the Brigadier is the best-loved character in
Doctor Who
. I met
Nick Courtney
a number of times and he really is a splendid fellow. He brought a real humanity and vulnerability to the role without compromising the essential toughness of the character. Brigadier Alistair Gordon Lethbridge-Stewart is the chap you'd want on your side in a fight – any fight – and it is a real privilege to be exploring what made him into the character we came to know and love.