Wednesday, 27 November 2013 - Reported by Marcus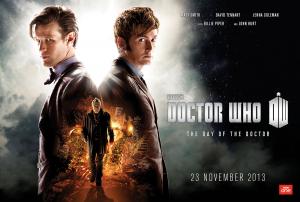 Doctor Who
took a stunning
$4.8 million
at the US box office on Monday, equivalent to 3 million pounds, making
The Day of the Doctor
the number two movie of the day.
The nationwide 3D screening took place in
660 theatres
across the country, selling
320,000
tickets in total. Only
The Hunger Games: Catching Fire
ranked higher. This screening was in addition to the live simulcast with the BBC on Saturday which was shown on limited screens and took around
$204,000
.
To put the achievment into perspective,
Entertainment Weekly
reports the take is roughly as much as
The Wizard of Oz
in 3D made during its entire run earlier this year, and more than indie favourite
Much Ado About Nothing
.
Soumya Sriraman
, Executive Vice President of Home Entertainment and Licensing, BBC Worldwide North America said
It's incredible that Doctor Who has made history once again, setting record numbers across the board on BBC America, in social media, and now in theaters. It's a testament to the fans and their dedication for Doctor Who
As reported earlier, the 50th Anniversary story also took
£1.7 million
in the UK,
£0.87 million
in Australia and
0.095 million
in New Zealand over the weekend. The total currently stands at over
£5.8 million ($9.4 million)
with screenings across Europe, Canada and Latin America yet to be included.