Monday, 25 March 2013 - Reported by John Bowman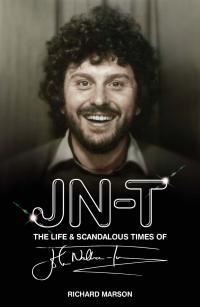 A forthcoming biography of former Doctor Who producer
John Nathan-Turner
has been causing a media stir with newspapers focusing on allegations of sexual exploitation.
JN-T: The Life and Scandalous Times of John Nathan-Turner
, written by
Richard Marson
and to be brought out in May by
Miwk Publishing
, is based on more than 100 interviews with friends and colleagues as well as inside knowledge by Marson, who has also had access to the entire surviving archive of Nathan-Turner's paperwork and photos.
In its
review published on 10th March
,
SFX
predicted a tabloid firestorm thanks to one particular chapter, entitled
Hanky Panky
, while the current edition of
Private Eye
, published last week, similarly warned of unfavourable headlines for the BBC, and that's exactly what has happened. A measured book review was published last Friday by
The Guardian
, but the tabloids have subsequently gone to town on claims that in the 1980s both Nathan-Turner and his partner
Gary Downie
, a Doctor Who production team member, used their senior roles to prey on male fans - some of whom were under the legal age of consent at the time (
Mirror
,
Mail
, and
Sun
). Marson says himself in the book that he was assaulted by Downie.
Miwk's website includes endorsements for the book from people such as director
Fiona Cumming
who, with
Ian Fraser
, says:
"Some of the revelations are painful (but) we find this very rounded, well-written and honest."
Drama serials manager and later producer
Brian Spilsby
comments:
"I must say you have skewered JN-T precisely. I can vouch for all of the facts and most of the opinions. It's a very accurate - warts-and-all - picture you paint."
And
David Reid
, who was the BBC's head of drama for series and serials from 1981 to 1983, says of the biography:
"Quite wonderful on many, many levels. Gripping, fascinating, appalling – and, by the end, truly moving. Immaculate research makes the whole utterly trustworthy. A very good and very well-written book."
Responding to the allegations, the BBC has urged anyone with information to contact the police or the
Dame Janet Smith Review
, which was set up in the wake of the Jimmy Savile abuse scandal to look into the culture and practices of the BBC while Savile worked there.
Nathan-Turner died in 2002 and Downie in 2006.