Thursday, 5 May 2011 - Reported by Marcus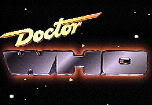 Oliver Elmes
, the man who designed the Seventh Doctor's title sequence, has died.
In 1987 producer
John Nathan Turner
commissioned BBC designer Oliver Elmes to design a new opening for the show. Elmes worked with CAL Video to produce the first Doctor Who logo to be designed entirely on computer.
The basic concept was the 'Big Bang', with stars exploding to form a multi-coloured galaxy, and features a spinning TARDIS and Sylvester McCoy's face painted silver. The sequence, which cost £20,000 and took three months to create, ran for the duration of McCoy's era, from
Time and the Rani
to
Survival
, appearing on 12 stories, some 42 episodes.
A short documentary explaining the history of the sequence,
Helter Skelter
, is included on the DVD release of Time and the Rani.
After the series was put on hold in 1989, the new logo continued to be used for the Virgin New Adventures novels until Bad Therapy in 1996.
In addition to his work on Doctor Who, Elmes designed title sequences for
Elizabeth R
,
The Goodies
, and
The Good Life
. He also worked on
Multi Coloured Swapshop
and
Top of the Pops
, and designed the BBC2 idents with the two lines and one of the early spinning globe idents