Tuesday, 5 April 2011 - Reported by Chuck Foster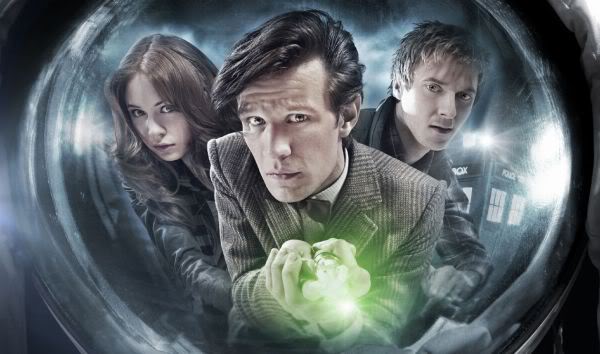 Last night saw the BBC Press screening of the first two episodes of Series Six,
The Impossible Astronaut
and
Day of the Moon
, which took place at the current home to the
Doctor Who Experience
, Kensington Olympia. As one might expect has generated press interest in the forthcoming series, premiering on 23rd April.
Tom Phillips
of the
Metro
went with
jaw-dropping moments and a mind-bending plot
:
Make no mistake, this isn't easy, switch-your-faculties-off entertainment - it's big, dark, impressively ambitious, dazzlingly executed entertainment that demands and repays your full attention. (It also makes very few concessions to those who didn't see the last series, and absolutely none to the fact that it's supposed to be a kid's show - a few children at the screening did seem a little left behind by some of the script's wilder curve-balls, although it didn't dampen their enthusiasm in the slightest.)

And if you thought last season's finale was stuffed full of mind-bending wibbly-wobbly timey-wimey shenanigans... just wait. This makes Inception seem about as straightforward as The Very Hungry Caterpillar.
Patrick Mulkern
from the
Radio Times
:
We sat pinned to our seats for 90 minutes or so of electrifying, bamboozling television, which might just be also the most unsettling since the series came back in 2005. I certainly don't think my nearly-four-year-old niece, who's obsessed with Amy Pond but still creeped out by last year's relatively tame Prisoner Zero, will last long into episode one before quailing behind a cushion.
...
The chills are leavened with laughs (the Doctor flits through history, upstages a timeless comedy duo, and dubs his chums "the Legs, the Nose and Mrs Robinson"). River makes two spectacular entrances. There's a new use for dwarf star alloy (conceived 30 years ago in Warriors' Gate, it enchained one of The Family of Blood in 2007). And the number 1,103 may be significant.
Moffat ladles mystery upon mystery, so that by the end we're gagging for answers. The second instalment concludes with a mouthwatering cliffhanger.
Simon Brew
of
Den of Geek
:
What I can tell you is this. In 90 minutes, Steven Moffat has not only laid down a fascinating, intriguing path for the show to follow over the coming months (dying to tell you more there, but can't), he's also put together an opening adventure that's quite brilliantly funny, narratively intricate, contains genuine jumps (it's exceptionally creepy at times), and sets a very, very high bar for what's to follow.
I do appreciate that few come out of an early preview of Doctor Who saying it's rubbish. But this is the real deal: if you want proof that Britain can produce world-class science-fiction television, it's right here. And it goes out to a family audience at Saturday teatime.
...
For let's make no bones about this: this is a dense, tremendously ambitious and elegantly constructed way to open a series. It pushes those four core characters in very different ways, and establishes moments that I wouldn't be surprised if we were flashing back to come the winter, when this run of Who comes to an end. In fact, I'd pretty much guarantee it.
Holy Moly
observed:
What we got was a dizzying mix of the very funny, the very scary, the surprisingly violent, the very mystifying and the ominous looming shadow of something that's likely to be very upsetting indeed. And there's one moment in the second part that will have you cheering out loud at the brilliant ridiculousness of it.
John Blunkett
of the
Guardian
:
In truth the opening episode of the two-parter took a while to warm up, but a fiendishly complicated plot – it is probably not a spoiler to suggest it involves time-travelling – required no end of exposition. But by the end of the first episode it had drawn gasps and applause in almost equal measure from a preview audience at London's Olympia on Monday.

Preaching to the converted in most part, no doubt, but this was scary stuff – almost as unnerving as those kids who kept asking for their mummy and the darkest series opener showrunner Steven Moffat could remember. And not a big-name celebrity guest star in sight.
The
Guardian
also quoted BBC1 Controller
Danny Cohen
:
BBC1 controller Danny Cohen, speaking at the series launch, described Doctor Who as "unique and brilliant … world class science fiction and a testament to the stars and the people who make it".
SFX
provided
30 points of note
from the first two episodes (some spoilerish).
Additional coverage from: BBC News, Digital Journal, What's on TV, The Times (payment required), Gay Times, SFX
---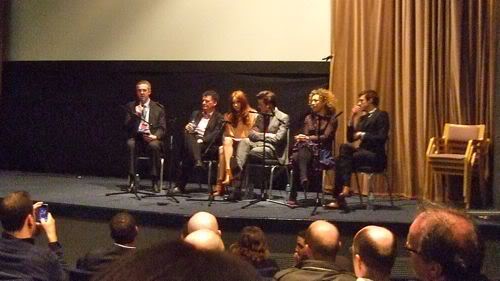 The screening was accompanied by a Q&A with
Steven Moffat
,
Matt Smith
,
Karen Gillan
,
Arthur Darvill
and
Alex Kingston
, faithfully captured by journalist
Ian Wylie
. On making the series darker, Steven Moffat said:
Well, first of all you make Doctor Who frightening to appeal to children – and children absolutely rank Doctor Who stories in order of frightening-ness. That's what it's about. The jokes and the silly bits, they're for the adults. But the scares are in for the kids. So no. I've got two kids of my own and I never do anything that I didn't think was acceptable for them. Having said that, one of them does tend to sleep on our bedroom floor.

To be honest, it's darker than any other opener of a season. But we've been pretty dark before in Doctor Who. Blink was dark…The Satan Pit was dark. We're coming in from the dark side just because we haven't done it that way before.
On the mid-series break:
Steven: Oh yes, you'll get a cliffhanger. In fact, you're going to get several cliffhangers. You had two just there. And you're going to get a couple of real belters. Not just episode seven. Episode six is an absolute cracker, isn't it? If you run for 13 weeks you can start to feel as though you can miss one ep and it'll be OK. We don't want that – we stop for a few weeks and let you all worry about what's happening and then come back. Of course we get then two finales and two first nights.

Arthur: It really makes it hard to talk about it though, because there's so many secrets and so many cliffhangers. It's all linked.

Matt: At the end of six…we read it and went, "Oh my God!"
And of course the inevitable question to Matt on his length of stay as the Doctor:
I take it year by year, month by month. So I'll finish this particular season – and sit down with Mr Moffat and see where I go from there. It's certainly not a part I want to give up anytime soon. I love playing him.
The full transcript and plot summary may be read on Ian's
Life of Wylie
blog.
The BBC's entertainment correspondent
Lizo Mzimba
also gave Twitter followers a summary of events as they unfurled (note: some comments edited for spoilers):
18:39 Settling down in seat for screening. Haven't even started,
      but rounds of applause for Matt S, Karen G, Arthur D and Alex K who are all here.
18:40 Huge round of applause for @steven_moffat
18:41 Lights dimming, here we go.
20:11 Great two parter. Scary and exciting in equal measure. New trailer too.
20:13 BTW so many things happen in two episodes. Try and stay spoiler free.
      So much stuff can be given away that will lessen enjoyment of ep.
20:17 Very strong eps, american stuff looks great. New monster(s) very terrifying.
       Story poses lots of questions, some of which not yet answered.
20:26 Episode 6 has biggest cliff hanger says @steven_moffat bigger than 7!
20:28 Matt says they read Ep 6 and all said OMG when they reached end!
20:30 The Silence Will Fall storyline will cover all 13 eps says Steven.
20:31 Alex Kingston says weirdest theory she's heard about who River is is that River's the Doctor.
20:36 Matt says The Doctor isn't a part he's planning on giving up anytime soon.
20:37 And @steven_moffat has asked press and audience not to give away major spoilers,
      and one in particular. Gets round of applause!
20:42 Re 50th anniversary @steven_moffat says 'yes, there are thoughts'.
      But says nothing more than that.
23:19 One thing before I sign off. Sadly, no plans to show the extended trailer
      screened tonite again. Was put together just for press launch.

Lizo also interviewed Matt Smith and Karen Gillan, which is available to watch from the
BBC News site
.
---
On radio,
Colin Paterson
chatted to
Matt Smith
for
Radio 5 Live
about Doctor Who, football, and thoughts of the 50th Anniversary! This is available to listen to on the
BBC iplayer
until 11th April (interview from 2:26:08).
Jo Whiley
also chatted to him on her radio show, where they also discussed Tom Hanks as a future Doctor! This is available to listen to on the
BBC iplayer
until 11th April
(interview from 1:09:40)
.
On television,
ITV1
's
Daybreak
featured a brief visit to the event, with entertainment correspondent Steve Hargraves chatting to Matt Smith, Karen Gillan and Arthur Darvill.
BBC Radio One's
Newsbeat
also interviewed
Matt Smith
and
Karen Gillan
, who answered questions provided by the show's Facebook followers; the video is available on the
BBC website
.
---
The BBC Press Office have now released
interviews
with
Steven Moffat
,
Matt Smith
,
Karen Gillan
and
Arthur Darvill
.
Steven on the series evolution:
Well we've moved through the funfair a bit – we've done the rollercoaster, now we're on the ghost train. Last year, in a way, was all about saying, don't worry, it's still him, it's still the same show, nothing's really been lost. Losing a leading man like David Tennant is seismic – unless you gain a leading man like Matt Smith. It's been the biggest joy to see him stride in and just claim that TARDIS for his own. But now he's really here, and the part is his, and the bow tie is cool, he's ready to lead us places we didn't know existed. Last year we reassured you – this year, to hell with that, we're going to worry the hell out of you. How well do we really know that man, or what he's capable of? We're putting the "who?" back in the Doctor.
Matt on filming in America - and finding fans!
It was very strange, we were in the middle of the desert and suddenly there was a lady with a campervan and deck chair, holding an iPad up with a moving screen which read 'autograph please!'. I mean how on earth she knew we were in the middle of the desert I have no idea, but it certainly proved her dedication to the show!

The landscape was incredible, and I think being in America, filming in that terrain, has definitely added a sense of scale and a filmic quality to this series of Doctor Who. It was an amazing experience and a brilliant laugh. I have to confess that I think the Stetson has been my favourite hat for the Doctor so far, 100 per cent. Viewers may well see more of the Stetson later in the series but I couldn't possibly reveal when...
Karen on her character development:
There were clues planted in the last series that are going to become major storylines in this one. There's a really interesting arc in this series that involves all of the major characters and it's evident from the first episode that everyone on the TARDIS is withholding secrets from one another," continues Karen. "It makes for a fascinating dynamic between the characters and it's incredibly important to the overall series.
And Arthur on his co-stars:
They're brilliant, it's lucky we all get on so well. The most fun I have is when all three of us are together; it's a really good working relationship. It helps that we all came on board together because we're growing as a unit and keeping each other on our toes.