Sunday, 13 March 2011 - Reported by Chuck Foster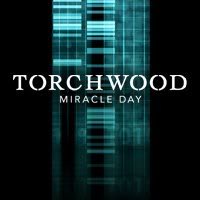 It's week nine in the production of
Torchwood
, and the end of the second month of the shoot! However, there's still some three months of filming left to go so no time to wind down for the production team - as usual there was filming in progress by two or more units over the course of the week, both around Los Angeles (with scenes taking place at places like the beach and an old stadium) and on the Warner Bros studio backlot. Plus, a rather important birthday to celebrate ...
Cast highlighted this week included
John Barrowman
,
Eve Myles
,
Mekhi Phifer
,
Ernie Hudson
,
Dichen Lachman
and
Alexa Havins
- not to mention of course the silent majority of supporting actors, extras and stand-ins working on the production!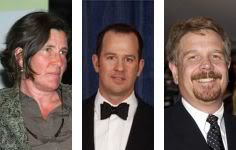 The BBC Production Office
reported
that this week would see filming commence on
Jane Espenson
's episode five. Two new directors were also
revealed
as working on the production,
Gwyneth Horder-Payton
and
Guy Ferland
. Horder-Payton's credits include
Battlestar Galactica
,
Fringe
,
The Walking Dead
,
Sons of Anarchy
and
The Shield
; Ferland has also directed for the latter three shows, with other credits including
The Mentalist
,
Human Target
- IMDB reports him as working on
John Shiban
's episode six of
Torchwood: Miracle Day
.
It was also
reported
elsewhere that
John Wells
is one of the producers for
Torchwood
; his credits include
Southland
,
Shameless
,
E.R.
and
The West Wing
.
---
Times cited within reports below are in Los Angeles local time, except where indicated






Key to initials: AF - Allyson Floyd (stand-in); AS - Alana Stone (fashion designer); BBC - BBC Torchwood (production office); CS - Chazz Sutton (extra); DC - Daryl Crittenden; JB - John Barrowman (Jack); JE - Jane Espenson (writer); MP - Mekhi Phifer (Rex); ST - Shawna Trpcic (costume designer)


Next week sees the return of
Kai Owen
to filming ...
11 09:17(UK) Well our suitcases are packed, we're off to Los Angeles tomorrow for 3 months!! Crazy!
11 19:47(UK) Thank you all for your good luck messages, I'll try and keep you updated
             from the mad bad world that is #torchwoodmircaleday
12 19:12(US) Los Angeles beware!! We have arrived. 

Just a quick note that clocks go forward in Los Angeles this weekend, meaning that for the next fortnight Torchwood activity is just seven hours behind the UK!