Sunday, 6 March 2011 - Reported by Chuck Foster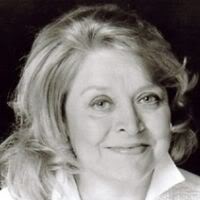 The
Wales on Sunday
have reported an actress previously appearing in
Doctor Who
in the 1980s will be returning to the show, during a summary of cast seen filming last week alongside
James Corden
in the episode currently being shot by
Steve Hughes
:
Corden was joined on set in Cardiff by well-known British actress Lynda Baron, Karen Gillan, who plays assistant Amy Pond, and Arthur Darvill, who plays Rory Williams, plus two bus loads of shoppers and a baby.

Lynda Baron
appeared in the Fifth Doctor story
Enlightenment
(1983) playing Captain Wrack, and also sang "The Ballad of the Last Chance Saloon" that featured throughout the First Doctor story
The Gunfighters
(1966). Outside of
Doctor Who
she is probably best remembered as nurse Gladys Emmanuel in the Ronnie Barker sitcom
Open All Hours
.
Update 9th March:
No official confirmation of Baron's casting has been made at present, but the actress has been seen on location.