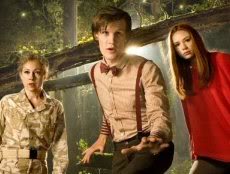 Press reviews for Flesh and Stone are appearing with
The Telegraph
praising it as a rollercoaster ride of thrills and spills. The reviewer is less sure about the final scene but feels quite a few viewers might have been rather jealous of the position Matt Smith was put in.
The Guardian
says it was a classic episode, perhaps even the greatest episode of Doctor Who there has ever been, with an iconic sequence every couple of seconds.
Shadowlocked
feels that Flesh and Stone wasn't able to repeat the creepiness of last week's encounter. although it praises some elements of the story it feels the story exited on a desperate note, and in a positive flurry of lucky chances.
Den of Geek
calls it a blockbuster episode, a thrilling and really entertaining Saturday night adventure although the reviewer feels River Song was rather under used.
Anglotopia
calls the episode hot, a perfect balance of fear, excitement, sadness and triumph.