Friday, 1 January 2010 - Reported by Marcus
Today sees the Tenth Doctor regenerate into the Eleventh, only the tenth time in
Doctor Who
's forty-seven year history that the Doctor has regenerated.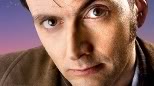 It marks the last story for the Tenth Doctor as played by
David Tennant
, who leaves the series after four years in the role and with 47 episodes under his belt. Tennant departs at the peak of his popularity, and was recently voted the best Doctor ever by the readers of Doctor Who Magazine. His dedication to the role has been tremendous, and he has led the cast of a series that scores incredibly high in the audience appreciation figures. His popularity is such that the BBC made him the centrepiece of its Christmas schedule; he is the first Doctor ever to have featured in a BBC One ident.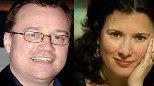 Today also marks the end of the
Russell T Davies
and
Julie Gardner
era of the series. Gardner and Davies have been involved with the show since the return was first mooted in 2003. Together they have been responsible for the realisation of the revived series and have turned Doctor Who into one of the biggest BBC properties in the first decade of the 21st Century. They have been responsible for 60 episodes and have made Doctor Who must-see television which regularly charts in the top ten programmes of the week. They have cast two Doctors,
Christopher Eccleston
and
David Tennant
, and created two spin-offs,
Torchwood
and
The Sarah Jane Adventures
, both of which have had tremendous success and are due to be commissioned for their fourth series.
All three leave a strong legacy for the new production team to build on in 2010 as the series returns with a new Doctor and a new Executive Producer in the Spring.