Friday, 11 August 2023 - Reported by Marcus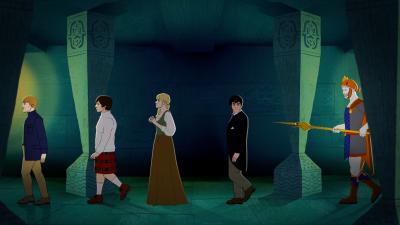 Doctor Who: The Underwater Menace animated on DVD and Blu-Ray
BBC Studios has announced that the second Doctor story, The Underwater Menace will be released this autumn on DVD and Blu-Ray.
The two-disc box set contains the fourth season story, first broadcast in 1967, as well as special features.
This classic series stars the second Doctor Patrick Troughton and co-stars Anneke Wills as Polly, Michael Craze as Ben and Frazer Hines as Jamie McCrimmon.
The original 1967 master recordings of The Underwater Menace were wiped soon after the programme's original transmission. Film recordings of Episodes Two and Three survive as well as audio-only recordings of episodes One and Four. These recordings have been used to create a brand-new fully animated presentation of this lost story.
This story sees these characters navigate through their adventures in the underwater city of Atlantis where they meet with Professor Zaroff, who plots to destroy the Earth by draining the oceans. All episodes have been animated in colour and black and white whilst including original film elements.
DISC ONE (Main Feature)
Episodes 1-4 - Animation - Colour
Episodes 1-4 - Animation - Black and White
DISC TWO (Special Features)
Episode 1 - Reconstruction
Episodes 2 & 3 - Original 1967 Episode
Episode 4 - Reconstruction
A Fishy Tale - Making of Documentary
Australian Censor Clips
The Man from Miditz
Frazer Hines Introduction for episode 2 as per the original VHS release
BBC News Report (South Today)
BBC Radio Solent Piece (audio only)
Photo Gallery
Animation GalleryPDF material including camera script
Doctor Who: The Underwater Menace will be available for fans to buy from November 2023. It is available for pre-order on Amazon