Wednesday, 1 June 2022 - Reported by Marcus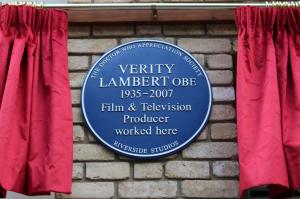 The blue heritage plaque dedicated to Doctor Who's first producer Verity Lambert has been rededicated at a ceremony at London's Riverside Studios.
The plaque was jointly unveiled by former Doctor Who showrunner Steven Moffat and the programme's first director Waris Hussein at a star-studded ceremony last Sunday 29th May.
At the ceremony, organised by the Doctor Who Appreciation Society, many of Lambert's friends, colleagues and admirers were present including Carole Ann Ford, Caroline Quentin, Linda La Plante, Larry Lamb and even the man who once tried to cancel Doctor Who, Michael Grade.
Later, Sian Phillips and Patricia Quinn joined Waris and Carole at a special screening and Q & A of lambert's acclaimed 1974 drama about the Suffragette movement 'Shoulder to Shoulder'.
The plaque was first unveiled in 2014 but was put into storage while the studio complex was completely redeveloped.
Riverside studios were used by the BBC in the 1950s and 1960s with many episodes of Doctor Who recorded at the studio complex.
A limited number of reproduction Verity Lambert mini plaques will be available for purchase soon from the Doctor Who Appreciation Society.