Friday, 3 December 2021 - Reported by Marcus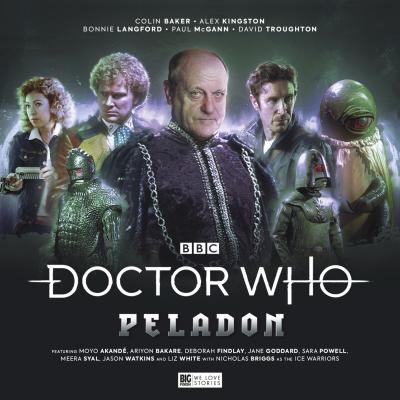 Colin Baker, Alex Kingston, Bonnie Langford, and Paul McGann star in January 2022's special Doctor Who Audio box set from Big Finish Productions.
The Sixth and Eighth Doctors, Mel and River Song join multiple time and space travelers visiting the legendary mining planet of Peladon in four brand new full-cast audio adventures.
The release sees the return of David Troughton as King Peladon, returning to the role he first played on television 50 years ago.
He is joined by familiar friends and foes, plus some new faces, including Alpha Centauri (Jane Goddard), Queen Thalira (Deborah Findlay), Queen Minaris (Sara Powell), Chancellor Barok (Jason Watkins), Helais (Liz White), Arla (Meera Syal) and the Ice Warriors (Nicholas Briggs).
Journey to Peladon, member world of the Galactic Federation and home to intrigue and adventure. With each passing generation, the toll of industrial exploitation and deadly political games is taking its toll on the planet. Can the Doctor and his allies guide the course of history towards a hopeful future? Or is Peladon's fate in the lap of the gods?
Doctor Who – Peladon is now available to pre-order as a collector's edition box set (on CD at £24.99) or a digital download (at £19.99), exclusively from the Big Finish website.