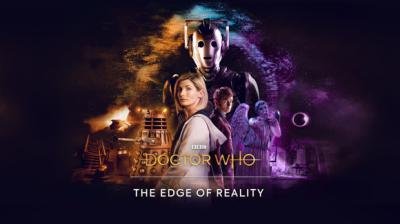 BBC Studios, in association with Digital entertainment studio Maze Theory, have released the Narrative Adventure Game, Doctor Who: The Edge of Reality, on Nintendo Switch
In the game you can face Weeping Angels, Daleks, Cybermen and more as you save the universe together with the Thirteenth Doctor (Jodie Whittaker) and Tenth Doctor (David Tennant).
Featuring new worlds, new gameplay, and an expanded story written by Gavin Collinson (Doctor Who: The Edge of Time, Doctor Who: The Lonely Assassins), players will come face to face with classic Doctor Who monsters including the terrifying Weeping Angels, power-hungry Daleks and metal-clad Cybermen... and a brand-new foe, the CyberReaper.
The second Doctor Who game to land on the Nintendo Switch, after The Lonely Assassins earlier this year, Doctor Who: The Edge of Reality expands upon the VR experience of Doctor Who: The Edge of Time.
Travel through space and time in the TARDIS to exterminate the havoc-wreaking 'Reality Virus', which is threatening the universe.

Explore immersive new environments like the 'Chaosverse': a corrupted alternate universe where worlds and timelines collide to create new adventures, encounters, and threats

Packed with easter eggs guaranteed to surprise and delight fans of the epic sci-fi series, which is currently airing brand-new episodes weekly on BBC One.

Digital deluxe edition offers fans exclusive content, including additional Sonic Screwdrivers, as used by previous incarnations of the Doctor.
Doctor Who: The Edge of Reality is out now on the Nintendo eShop, priced at £19.99 for the standard edition and £24.99 for the digital deluxe edition. To celebrate the launch, the digital deluxe edition will be priced at £19.99 for a limited time. The game is also available on PC, PlayStation and Xbox.Maze Theory Studio Director Russell Harding said:
"Players will love how they get to be part of a brand new Doctor Who story in Edge of Reality; and actively be immersed in the compelling adventure, alongside the two Doctors. We know fans love facing iconic monsters such as Daleks and Cyberman, but there will also be brand new foes equally as terrifying. The story around the 'Reality Virus' is incredibly tense and exciting, unfolding in brand new environments. We can't wait to see their reaction!
At Maze Theory, we're committed to pushing the boundaries of entertainment and creating highly innovative fan and gaming experiences. We're very excited to be bringing fans into the heart of the Doctor Who universe."
Mat Way, Global Director of Live Entertainment, for BBC Studios said
"Maze Theory have created another incredibly exciting opportunity for fans to fully immerse themselves in the world of Doctor Who in this brilliant new story. Voiced by two hugely popular Doctors who guide players as they battle to save the universe, Doctor Who: The Edge of Reality is bound to be a future fan favourite and we can't wait for the show's dedicated gaming fanbase to discover this new story."
Doctor Who: The Edge of Reality is a Maze Theory production for BBC Studios with development by Just Add Water