Friday, 19 February 2021 - Reported by Marcus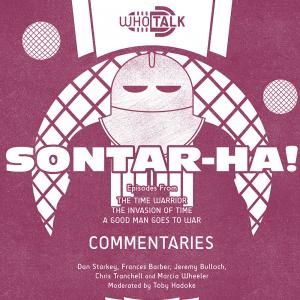 Who Talk is back with the series from Fantom Publishing providing new commentaries for Doctor Who stories.
The first covers the often derided 1984 serial Warriors of the Deep, the season opener of Peter Davison's last year as the Time Lord.
Producer Paul W T Ballard explains
Warriors might not be the most obvious of choices, given its standing in fandom. However, what we have produced is actually a really affectionate and positive commentary, which not only goes some way into explaining what ended up on screen, but also celebrating it too. Even the Myrka!

Warriors of the Deep is moderated by Toby Hadoke, and features Mark Strickson, Vincent Brimble, Tara Ward, Michael Darbon and Eric Saward.
The second release of the month is a selection box collection featuring Sontaran episodes. Sontar-Ha! is available as a standard version or special edition with a bonus disc.
We've got a good variety of Sontaran episodes on this release, both classic series and new. A Good Man Goes To War was actually the first new series episode we tackled, although Empress Of Mars ended up being released first. Although it's alarming quite how long ago even a 'recent' episode can be!

We quite often double bank recordings based on availability, which means we have a track on here that we recorded some time back. Whilst covering The Space Museum, we also took the opportunity to show Jeremy Bulloch an episode of The Time Warrior, and that is a fitting tribute on this disc to a lovely and much-missed man."

For the special edition, there is also a very unique commentary for The Sontaran Experiment.
Anyone can get people actually in the episode to watch it, but what we've done is to sit Dan Starkey with Toby Hadoke for both episodes of The Sontaran Experiment. And it works really well; there's a lot to be discovered about their fan experiences, and even more about Dan's approach to the Sontarans on-screen and audio.
Sontar-Ha! is moderated by Toby Hadoke and features Dan Starkey, Frances Barber, Jeremy Bulloch, Chris Tranchell and Marcia Wheeler.
The limited-edition sets are available to purchase
exclusively online
priced at £39.99. Limited edition sets come with a bonus CD and covered signed by Tara Ward and Dan Starkey.
Individual CDs are also available at a discounted price of £10.99 each ahead of their trade release in a few months time.