Friday, 1 January 2021 - Reported by Marcus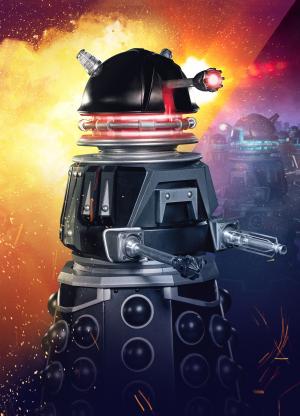 With this year's New Year special making its debut later today, viewers in the UK will be able to watch the programme in 4K resolution and high dynamic range (HDR) colour via iPlayer.
When Revolution of the Daleks is broadcast, viewers will be prompted to switch to the higher quality streamed version by pressing the red button.
To take advantage of the facility, households will need a compatible TV and a relatively fast internet connection. The BBC recommends a minimum of 24 megabits per second (Mbps) connection.
By contrast, regular 1080p high definition (HD) programmes require a 6.3Mbps connection and standard definition (SD) content 1.1Mbps.
Ultra-High Definition (UHD) - the other name given to 4K on TVs - delivers four times as many pixels as HD video. The benefits are that images can appear sharper and more detailed, although this is not always apparent if the screen is not large enough or viewers are sitting too far away.
HDR produces pictures that typically appear to be more vivid and colourful. It takes advantage of the fact screens can go brighter and/or darker than they used to be able to, providing a greater dynamic range.
As a result, the shadows of an image can be made less murky while the highlights - including sparks from special effects - can have more impact.
The BBC first publicly tested 4K HDR on iPlayer in 2016 when it offered four minutes from its Planet Earth II series. It has subsequently offered a limited range of full-length programmes including Dynasties; His Dark Materials; and Dracula, as well as sport including Wimbledon and Fifa World Cup 2018 matches.
Doctor Who has been broadcast in many different formats during its 57-year history. The first episode being broadcast in the 405-line monochrome analogue format. The definition improved in 1967 when the 625 line format was used to record The Enemy of the World. Colour arrived in 1970 with Spearhead from Space.
By the time the series returned in 2005 the series was recorded digitally rather than on analogue tape. The programme was first made available on iPlayer in 2007 with the Christmas special Voyage of the Damned. The first episode available in HD was Planet of the Dead, the 2009 Easter special.
Previous episodes have been made available in 4K on Blu--ray but Revolution of the Daleks is the first to be made available in this format on the iPlayer on the day of transmission,