Monday, 3 August 2020 - Reported by Marcus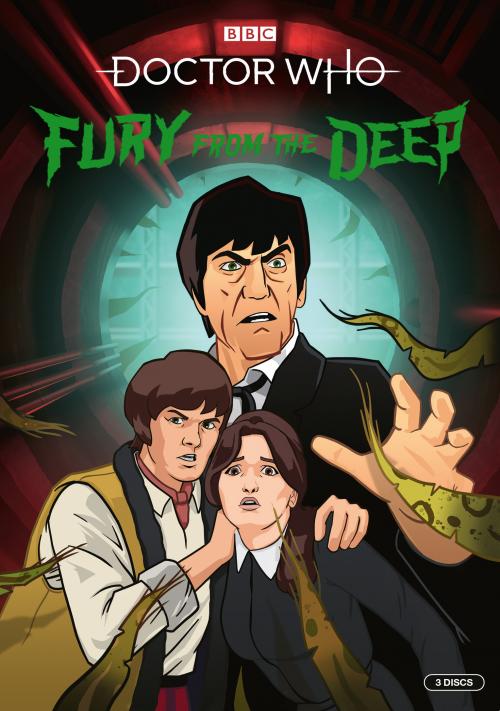 BBC Studios have revealed the artwork and extras for Doctor Who: Fury From The Deep
Starring Patrick Troughton as The Doctor, the new animated release will be available on DVD, Blu-ray and Steelbook from 14th September 2020.
Pre-orders are available now from Amazon.
Following the success of existing animations The Power of the Daleks, The Faceless Ones, Shada and The Macra Terror, Fury From The Deep fills another gap in missing Doctor Who content lost in the purge of the BBC's archive in 1975.
The three-disc release gives fans the opportunity to enjoy Fury From The Deep in high definition, either in full colour or in black & white. The release will include the surviving clips from the original 1968 production as well.
Fury From The Deep is told across six episodes and stars Frazer Hines and Deborah Watling. The storyline concerns a colony of sentient, parasitic seaweed, last seen in the eighteenth century, returning to attack a number of gas instillations in the North Sea in an attempt to take over humanity.
Animated episodes from Big Finish Creative Limited in association with Digitoonz Media & Entertainment and Thaumaturgy are joined by a wealth of extras.
A making-of featurette 'The Cruel Sea - Surviving Fury From The Deep' sees original cast members Frazer Hines, June Murphy and Brian Cullingford revisit filming locations with production assistant Michael Briant, assistant floor manager Margot Hayhoe and helicopter pilot Mike Smith.
Other contributors to this segment include writer Victor Pemberton and actress Deborah Watling. There's also an archive audio interview with director Hugh David.
Additional material includes:
· Audio commentaries
· The Cruel Sea – Surviving Fury From The Deep
· Original surviving footage
· Behind The Scenes 8mm footage
· Animating Fury From The Deep
· Archive interviews with Peter Day and Victor Pemberton
· Teaser Trailer
· Photo Gallery
· The Slide Audio Drama
· PDF scripts
RRP:
DVD – £20.42 / Blu-Ray - £25.52 / Blu-Ray Steelbook - £40.84