Thursday, 28 May 2020 - Reported by Marcus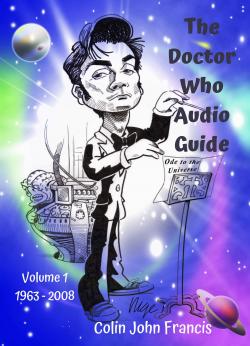 The
Doctor Who Appreciation Society
has published the second volume of
The Doctor Who Audio Guide
The Doctor Who Audio Guide by
Colin John Francis
, was first published by DWAS in 2005 and covered every official Doctor Who audio title from 1963 to 2005, with an updated version extended up to 2008 being published in 2010.
The Society is now pleased to publish volume 2 which covers all releases from 2009 to 2013. The guide is fully indexed by title, cast and crew and the index to the second volume is consolidated to cover volume 1 as well.
The book is A4 with a full-colour cover by
Nigel Thomas
, featuring Tom Baker as the fourth Doctor from
The Pescatons
.
Released at the same time is an updated version of volume 1 with a new colour cover, also by Nigel Thomas. This revised volume features both Colin Baker's foreword from the 2005 edition, and Lisa Bowerman's foreword from the revised 2010 edition.
volume 1 runs to 482 pages and covers releases from 1963 to 2008. Volume 2 runs to 480 pages and covers releases from 2009 to 2013. Titles covered include BBC produced and licensed products and other licensed titles featuring characters from the main TV series.
Each book is sold in support of
Marie Curie Cancer Care
. Colin Francis choose this charity in memory of a friend he met whilst working as a bluecoat at Pontins in the early 1990s. His friend died overnight from the cancer that he was too proud to tell people he was suffering from.
As well as the standard paperback, DWAS has also produced volume 2 in a limited run hardback with ribbon and dustjacket. Both volumes 1 and 2 can be purchased from the
DWAS website
now. The price for the paperbacks is £19-99 each and the limited-run hardback is £29-99. Prices include UK delivery. Delivery to Europe and Worldwide will cost extra.
Volume 3 is currently in production. The books are published by Space Rocket Ltd on behalf of the Doctor Who Appreciation Society.