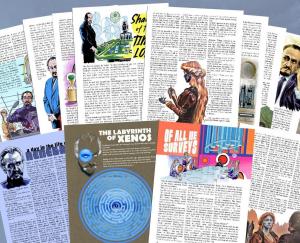 The latest release from
Terraqueous Distributors
is
The Unofficial Master Annual 2074
.
The annual is 136 pages, featuring stories and illustrations produced by fans, as well as contributions from well-known names such as
Alister Pearson
,
Smuzz
, and
Andy Walker
.
The Master annual was originally announced last November, with a call for contributors. The following is an excerpt from the writer's guidelines:
The Master is the Anti-hero. Sometimes saving people, not because of compassion or moral values, but because it suits whatever agenda he has. Of course, he can also be the villain, remember that meddlesome Doctor isn't around - and that's when villains come out on top
.
The focus of the annual is the original Master portrayed by Roger Delgado. The cover artwork is a homage to the first-ever Dr Who annual that was released in 1965 by World Distributors.
We wanted from the start to send the message that the Doctor isn't here to save the day, he's gone, he's been replaced by a different kind of hero. And in the unofficial Master annual, we get to explore just how successful he can be. What could be more thrilling than exploring the Master's universe, without having the Doctor there to save the day.
The cover was illustrated by
Paul Cooke
and features original characters from the stories in the annual.
The publication follows
The Unofficial Dr Who Annual 1972
and
The Unofficial Dr Who Annual 1987
, which featured stories and illustrations produced by fans, as well as celebrity contributions from the worlds of Doctor Who.
The Unofficial Master Annual 2074 is available from
Lulu
at the print-on-demand price of £23.32 plus shipping costs). The annual is a not-for-profit publication, and none of the money paid by purchasers goes to the publisher or to any of the contributors.
The Unofficial Doctor Who Annual 1987
is also available, but will be retired later this year.
Later this year, Terraqueous Distributors will be releasing their fourth annual. This time the focus will be on the seventh Doctor. If you would like to contribute to the seventh Doctor annual, please send an email to:
doctorwhoannual@aol.co.uk
Details on the Terraqueous Distributors
FaceBook page