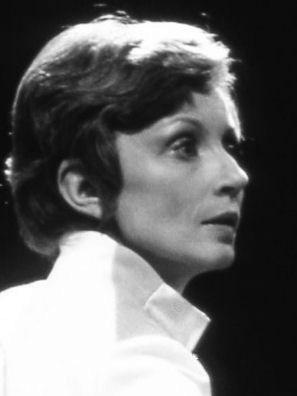 The actress
Wendy Williams
has died at the age of 84.
Wendy Williams played Vira in the highly acclaimed 1975 story The Ark In Space. Her performance as the revived human, struggling to adjust to the reality of the Wrin invasion. was a tour de force, developing real chemistry with the newly regenerated Fourth Doctor played by Tom Baker.
Wendy Williams was born in Cheam in Surrey, just south of London. Her first television appearance was in the 1954 play
A Party for Christmas
.
Over the next forty years, she became a regular on British Television, appearing in many popular series. Her first main role was as Lady Lizzie Eustace in the 1959 series
The Eustace Diamonds
. she played Frances Graham in
Knight Errant Limited
and Margaret Hale in
North and South
. Roles followed in
The Further Adventures of the Musketeers, Thirty-Minute Theatre, The Regiment, Crossroads, Z-Cars, Dominic, When the Boat Comes In
and
Angels
.
In 1976 she played Barbara in the Terry Nation series
Survivors
and later appeared in
Poldark
as Lady Basset. in 1981 she joined the cast of
Tenko
as Vicky Armstrong. The following year she played Lady Brandon in the Barry Letts production of
Beau Geste
.
Wendy Williams was married to Doctor Who director
Hugh David
until his death in 1987.