Sunday, 27 October 2019 - Reported by Chuck Foster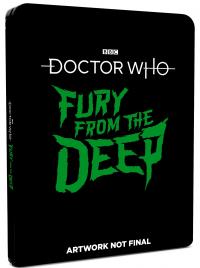 BBC Studios
have announced that the next missing
Patrick Troughton
story to receive the animated treatment will be
Fury From The Deep
, the penultimate adventure from the fifth season which features the departure of travelling companion Victoria.
The release was announced on the Animations Panel at this weekend's
London Comic Con
, and as well as all six missing episodes being animated in high definition in both colour and black and white it will also include the surviving clips from the serial, a new Making-Of, and other features still be be announced.
The story is due to be relesed on DVD and Blu-ray (including as a steelbook edition) during 2020, following on from
The Faceless Ones
, which was
announced
earlier this year, also for 2020.