Thursday, 15 August 2019 - Reported by Marcus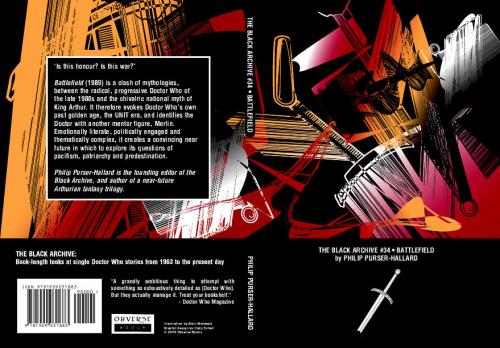 The latest in the series looking in detail at the making of Doctor Who, Black Archive, has been published by Obverse Books
Edition #34 looks at the seventh Doctor story
Battlefield
and come from range editor,
Philip Purser-Hallard
.
Often seen as the black sheep of the final season of 20th century Doctor Who, Battlefield also happens to be one of Purser-Hallard's favourite Who stories, but he's not allowed that fondness to blind him the serial's faults - though fair to say he doesn't pan it either.
Battlefield (1989) sees a clash of mythologies, as the progressive, anti-racist, sporadically pacifist Doctor Who of the late 1980s takes on Britain's authoritarian, chivalric national myth of King Arthur. With a script by Ben Aaronovitch, now a bestselling urban fantasy novelist but then only the writer of the previous year's acclaimed Remembrance of the Daleks (1988), it forms with its predecessor a 'philosophical pair', replacing its 1960s setting with an imagined 1990s and showing a Doctor dealing with the repercussions of his future actions, rather than his past. Even as a script Battlefield falls short of complete success, yet it remains an emotionally literate, politically engaged and thematically complex piece. It finds areas of overlap between Andrew Cartmel's radical conception of Doctor Who and Arthurian myth in the legend of a past golden age, represented by the return of Brigadier Lethbridge-Stewart and UNIT, and in the identification of the Doctor – always presented by the series as a wizard, a prophet and a mentor – with Merlin. It interrogates the patriarchal attitudes of both the Arthurian myths and 1970s Doctor Who from a contemporary perspective, and questions the attitudes to war found in both.
It also does an exemplary job of worldbuilding, sketching in a convincing near future based on a handful of lines, and presents a complex, questionable, even sympathetic villain motivated by a value system alien to our own. Finally, it raises questions of predestination: through the other characters' foreknowledge of the Doctor's future; through the fate apparently decreed for Ancelyn and Bambera; and, perhaps, through the Brigadier's survival of a story whose structure seems to demand that he should die.
Philip Purser-Hallard is the founding editor of the Black Archive range, the author of The Black Archive #4: Death in Heaven and co-author of The Black Archive #13: Human Nature / The Family of Blood.
He has published five novels, including a trilogy of near-future Arthurian urbanfantasy political thrillers, The Pendragon Protocol, The Locksley Exploit and Trojans, and a Sherlock Holmes novel, The Vanishing Man.
Link to Website