Sunday, 3 March 2019 - Reported by Marcus
This month's
Who Talk
releases feature the legendary Daleks and the reptilian Ice Warriors.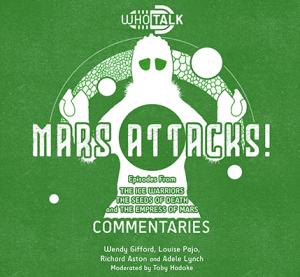 First up is a new selection of commentaries for stories featuring the Ice Warriors, in the form of Mars Attacks!
Producer
Paul W.T. Ballard
explains
I literally couldn't resist the title, even though I'm sure a lot of people will groan. This is the first time we have released a new series commentary track, and we were thrilled to be joined by Adele Lynch and Richard Ashton, who are the most recent Ice Warriors, to have a look at the Peter Capaldi episode The Empress of Mars, little over a year after it was first broadcast.

Such is the way of recording these things, as Adele and Richard were leaving the studio, Wendy Gifford was coming in, and we shot back fifty years to look at the very first appearance of the Martian invaders!
Rounding off the set are commentaries for episodes two and five of
The Seeds of Death
, with guest star
Louise Pajo
.
Louise was over on a rare visit from Down Under, so we took the opportunity to grab her for a commentary track. She isn't featured on any of the BBC releases, and is a very outspoken commentator… especially when it comes to Miss Kelly's 'three balls'…!"
Mars Attacks! is moderated by Toby Hadoke, and features Wendy Gifford,
Louise Pajo
,
Adele Lynch
and
Richard Ashton
.
---
The second release this month comes in the form of 1980's Dalek blockbuster
Resurrection of the Daleks
.
I think Resurrection is one of those stories which has such a vast and dynamic cast, that there was plenty of scope to invite people who hadn't spoken about it before. Amongst those joining us are Sneh Gupta, who fitted us in on a quick UK trip, and Rula Lenska, who had some choice words to say about her outfit… but I won't spoil it. I also won't reveal which contributor wore their Dalek socks especially for the recording!
Mark Strickson
makes his Who Talk debut on the special edition of Resurrection.
As is a seemingly a theme with these two releases, Mark was working in the UK and we obviously made him sit through a variety of his episodes on his day off. For this release we get to hear his thoughts on Resurrection and Frontios, and discover which guest star he snuck into the TOTP studio to have a dance to Karma Chameleon with!
Resurrection is moderated by
Toby Hadoke
, and features
Rula Lenska
,
Jim Findley
,
Sneh Gupta
,
William Sleigh
,
Brian Miller
,
Roger Davenport
,
Mike Mungarvan
and
Eric Saward
, and the special edition also features Mark Strickson.
Please note: these commentaries contain no BBC copyrighted elements and do not feature audio from the episodes themselves - these are designed to be played alongside the official DVD releases.