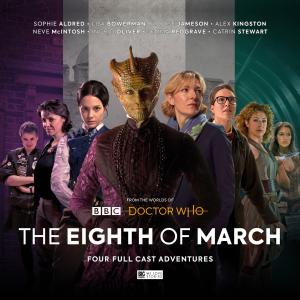 Big Finish
celebrates International Women's Day today, with the release of
Doctor Who: The 8th of March
.
In celebration of all the strong female characters from the Doctor Who universe, a female lead cast, along with female writers, producer and director, has come together for a Doctor Who audio box set like no other.
The 8th of March explores some of the amazing female characters of more than 50 years of the BBC Studios television show.
Starring Ace (
Sophie Aldred
) and Professor Bernice Summerfield (
Lisa Bowerman
), Professor River Song (
Alex Kingston
) and Leela (
Louise Jameson
), UNIT-team Kate Stewart (
Jemma Redgrave
) and Osgood (
Ingrid Oliver
) and, in a Big Finish first together, Madame Vastra (
Neve McIntosh
) and her wife Jenny (
Catrin Stewart
). This box set celebrates these powerful, multifaceted characters in stories very unique to the Doctor Who universe.
Big Finish Productions was formed 20 years ago in 1998 with its first release being a tale from one of the Doctor's companions, Bernice Summerfield, and it continues to this day to create new empowering female heroes in their own series. The 8th of March is not only a celebration of many great female characters (including the Thirteenth Doctor, played by Jodie Whittaker), but a reminder that one of the great virtues of Big Finish is that it is able to explore and add to the mythology of characters that we have more to learn from.