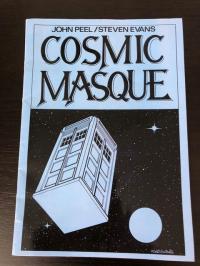 The
Doctor Who Appreciation Society
is making a final push to raise money to fund a blue heritage plaque honouring first Doctor
William Hartnell
at Ealing Studios.
With the planned unveiling date edging nearer, two more items available at the Society's
eBay store
, to help raise the money needed.
Cosmic Masque Issue 1 - 1977
Many people have written Doctor Who fan fiction over the years. Some have gone on to be professional writers working on the show itself.
An early example of fans publishing their own fiction is Doctor Who Appreciation Society's
Cosmic Masque
, from 1977. John Peel and Steven Evans wrote stories covering the eras of all four Doctors.
Over forty years later, DWAS is republishing this title to raise funds for the William Hartnell Heritage Plaque. This version is largely faithful to the original, with the addition of a full colour rear cover by 'Fletch' and a new foreword by John Peel (author of Virgin and BBC novels as well as a reference work with Terry Nation).
The title is bound with a glossy colour front and rear cover and runs to 40 pages total. Despatch will commence week commencing 15th October 2018.
Magazines cost £7-99 including free Uk delivery.
Unveiling Tickets
Ealing Studios is a working facility and as such, the unveiling is open to a small number of invited guests only. However there is still an opportunity for fans to attend.
On Friday a competition will be launched for anyone who is either a DWAS member or who has helped raise funds for the plaque by buying items from the ebay store, to win a free ticket.
Before then, there are two places at the unveiling up for auction. The winning bidder will receive two tickets and will need to be available on
Sunday 14th October 2018
in the Ealing area, between 2-30pm and 4-00pm. the winner and their friend will be able to attend the unveiling and then a reception at a local venue along with the other guests.
Please be aware that as this is not a convention, it is a condition of entry that autographs are not sought from other guests.
Online Auction Site