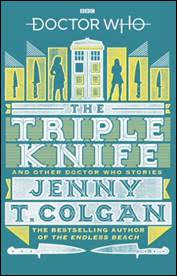 New works by
Naomi Alderman
and
Juno Dawson
are among some of the 2018 offerings for the Doctor Who list, publishing to celebrate the arrival of
Jodie Whittaker
as the Thirteenth Doctor.
Penguin Random House
Children's imprint
BBC Children's Books
have today announced its acquisition of a brand-new Doctor Who short story from Alderman, author of
The Power
and winner of the Women's Prize for Fiction 2017. Alderman's tale features Jodie Whittaker's Thirteenth Doctor battling to save the universe alongside her close and trusted friends.
The story will add to the existing 12 Doctors, 12 Stories anthology, which recounts tales for each of the previous twelve Doctors as they adventure through time and space. The new collection will publish on
1 November 2018
as
Thirteen Doctors, 13 Stories
, and will also include existing stories by
Eoin Colfer
,
Michael Scott
,
Marcus Sedgwick
,
Philip Reeve
,
Patrick Ness
,
Richelle Mead
,
Malorie Blackman
,
Alex Scarrow
,
Charlie Higson
,
Derek Landy
,
Neil Gaiman
and
Holly Black
.
Thirteen Doctors, 13 Stories
marks Alderman's return to the Doctor Who universe, after her 2011 novel,
Borrowed Time
, published by BBC Books. On 19 July, to celebrate the opening of this year's San Diego ComicCon, BBC Books will reissue a new paperback edition of this novel, along with a new edition of collected Doctor Who stories by
Jenny T. Colgan
,
The Triple Knife
. Both will have new cover designs by artist
David Wardle
.
Multi-award winning author and activist
Juno Dawson
's novel will mark her debut on the Doctor Who list. Entitled
The Good Doctor
, it will be one of the first novels on the BBC Books list to feature the Thirteenth Doctor, as played by Jodie Whittaker, and her friends Yasmin, Ryan and Graham. The book will publish in October along with two other Thirteenth Doctor adventures,
The Molten Heart
, by New York Times bestselling author
Una McCormack
and
Combat Magicks
, by bestselling Young Bond author
Steve Cole
.
Naomi Alderman
says
I'm thrilled beyond words to be writing the first short story for the Thirteenth Doctor. Believe it or not, my first ever rejection letter, dated 1992, was from Doctor Who Magazine for a story I wrote as a teenager obsessed with the Doctor; I've loved Doctor Who since I was a child, so it's particularly meaningful and exciting for me to be adding my name to this anthology.
Juno Dawson
says
My earliest memory is Bonnie Langford being spun off into space in a killer bubble in 1987, so you can only imagine how excited I was when I was asked to write for the Doctor Who range. And, as a Bradford girl, it's an even bigger thrill to be among the first writers in the world to write for Jodie Whittaker, the first Doctor from Yorkshire. This feels like a bold new era for Doctor Who and I'm beyond delighted to be a part of it. This is a dream come true.
Ruth Knowles
, Publisher at Penguin Random House Children's, says
Jodie Whittaker's Thirteenth Doctor deserves ground-breaking writing from a ground-breaking author, and we are thrilled to have someone so perfect in Naomi to bring the first female Doctor to the page. She has stunned the world with her characters, writing and ideas, and as a huge Doctor Who fan (and previous Doctor Who book writer) she was our first choice to write the Thirteenth Doctor story for this collection. This story will be, we are sure, brilliant, and the prefect addition to this stellar collection by the very best of authors.
Albert DePetrillo
, BBC Books Publishing Director, says
The excitement that's building around the new series of Doctor Who is remarkable, and Jodie Whittaker is helping usher in a whole new era of vibrant, inclusive storytelling. We're thrilled to be a part of that with our publishing, and authors like Naomi and Juno, Jenny, Una and Steve are the perfect ambassadors for this next chapter in the Doctor Who story. We can't wait for them to introduce a whole new generation of fans to the wonders of the Whoniverse.