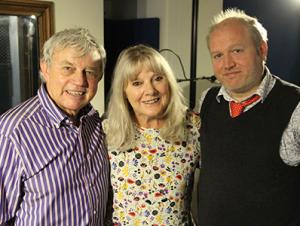 Fantom Publishing
is releasing two new Commentaries in their
WhoTalk
series.
The series beings cast a crew together to provide an alternative commentary to the officially released Doctor Who stories.
The first two, of what is promised to be a bumper year of releases, come from either end of the original series.
Producer
Paul W T Ballard
explains
There were a few 'orphan' missing episodes without commentaries that we made it our mission to cover with this range. So we bring together a collection from the Patrick Troughton golden 'Monster Era' of the show, which covers a number of key stories, including The Faceless Ones and The Evil of the Daleks.

It's with a heavy heart that we also include our last commentary recording with our dear friend Deborah Watling, who is joined by missing episode hunter Phil Morris to watch the concluding installment of The Web of Fear. There is also a bonus interview where she recalls her favourite, and sadly still missing, story Fury from the Deep.

All in all, it's quite a packed release, and the special edition version contains even more material, including Frazer Hines's commentary for The Abominable Snowmen, and George Layton's first viewing of The Space Pirates!
The second release this month is the serial which ended the show's twenty-six year run on television.
Survival is one of my favourite serials, and we have had a few reunions of the cast at our conventions over the years. So it was a no-brainer to take advantage of the exciting options available and get the gang together to watch Survival for Who Talk.
There are two complete commentaries for the story included on the release.
We were thrilled to be joined by author Rona Munro, who hasn't been interviewed a lot about the series. We were delighted to introduce to Sophie Aldred for the first time, more than a quarter of a century after the show was actually made!
These CDs are very limited, and exclusively available via
whotalk.co.uk
Both sets are now available, you can purchase directly direct from Who Talk at a discounted price of £10.99 each (RRP £12.99) or via download priced £9.99. The special edition bundle will be available exclusively via the website priced £39.99.
Please note: These commentaries contain no BBC copyrighted elements and do not feature any audio from the episodes themselves.