Sunday, 4 March 2018 - Reported by Marcus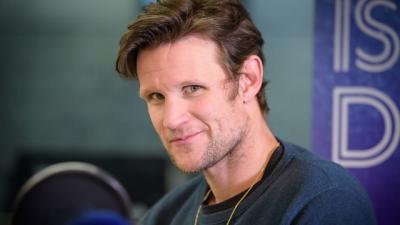 Eleventh Doctor
Matt Smith
has appeared on the long-running BBC Radio programme Desert Island Discs, choosing the music he would take to a Desert Island.
In the programme, which can be
heard here
, Smith talked about how he nearly turned down the role of the 11th Doctor. He said he had had
"a wobble"
after being told he'd be David Tennant's successor and after seeing Tennant's face on a set of plates. But described playing the role as one of the greatest experiences of his life.
He described Doctor Who fans are a good bunch, saying one of the strangest things he's been shown is a tattoo of his own face, opposite that of David Tennant's on a woman's inner thigh
I said what on earth does your boyfriend think? But he was there and he was smiling away.
He described the casting of
Jodie Whittaker
as the thirteenth Doctor as a brilliant choice.
The show relies on big, broad, creative brushstrokes when it's controversial it's alive. It's brilliant, it's high time and she'll be sensational because she has real humanity and she is funny.
Smith said the only advice he had given to the new Doctor is advice once given to him which was
"listen to no one"
Desert Island Discs has been running on BBC Radio since 1942. Many Doctor Who alumni have appeared on the programme including
William Hartnell
in 1965, Jon Pertwee in 1964 (episode now lost), and
David Tennant
in 2009.