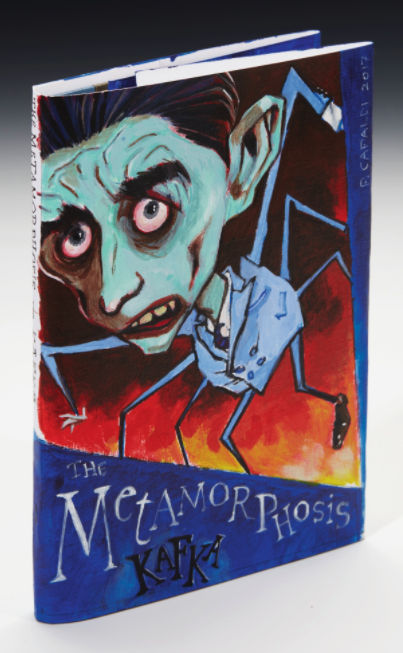 Peter Capaldi
has designed a new, original jacket for a first edition of
The Metamorphosis
by
Franz Kafka
to raise money for
House of Illustration
– the world's only public gallery solely dedicated to illustration and graphic arts.
The auction, at Sotheby's London, on 11 December 2017 - 12 December 2017, will offer a collection of 33 first editions of classic books, each with an original dust-jacket, created and donated by leading artists and designers to benefit House of Illustration.
Each artist selected a book they felt a strong connection to and then created a new dust-jacket or artwork in response to it. The re-worked classics include Harper Lee's To Kill a Mockingbird, Lewis Carroll's Through the Looking Glass, J.D. Salinger's The Catcher in the Rye, Rudyard Kipling's The Jungle Book, T.S. Eliot's The Waste Land, D.H. Lawrence's Sons and Lovers and George Orwell's Animal Farm.
Peter Capaldi chose to illustrate The Metamorphosis, the novella written by Franz Kafka which was first published in 1915.
I chose to illustrate the cover of The Metamorphosis because I find the story so powerful, the imagery unforgettable, and the sadness at its heart completely human
The book is expected to raise up to £2000 for the charity which works with schools across London on projects with young people to inspire creativity and enable them to communicate visually, overcoming barriers such as language, literacy levels and special educational needs.
Ahead of the sale, all works will be on display at
Sotheby's London
(34-35 New Bond Street) from
8-11 December 2017
. In total, thirty-one artists have donated to the sale.
For more information visit
Sothebys Website
.