Monday, 30 October 2017 - Reported by Marcus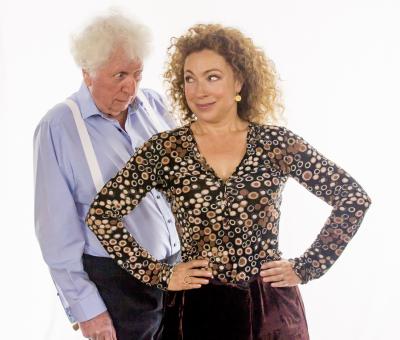 River Song as played by
Alex Kingston
, is to meet the Fourth Doctor, played by
Tom Baker
, in a new set of audio adventures released by
Big Finish
.
Series Four of
The Diary of River Song
, to be released in
August 2018
, will see the archaeologist encounter Doctor Number Four, in a set of new adventures alongside the longest serving Doctor.
Meanwhile Series Three of the
Diary of River Song
will released in
January 2018
, and will feature the Fifth Doctor, as played by
Peter Davison
, battling against the most evil midwife in Doctor Who history, Madame Kovarian, played by
Frances Barber
.
This box set will contain four hour-long adventures where the Doctor's wife, archaeologist, crack shot with an intoxicating kiss and time traveler will have to face the demons of her past, present, and future.
The Diary of River Song - Series Three

When River Song goes shopping for a whole load of unclaimed loyalty points, she uncovers secrets linked to her tangled past.

The Doctor arrives, and the mystery deepens. He is already exploring the universe with another companion – someone River knows nothing about.

Madame Kovarian has been busy, and this time she will not accept failure…
A fifth series is planned for release in January 2019