Friday, 29 September 2017 - Reported by Marcus
Time Shadows: Anniversary Edition
is an expanded edition of the unofficial, unauthorized Doctor Who short-story anthology for charity from
Pseudoscope Publishing
.
All sales proceeds will be donated to
LimbForge
, a nonprofit that provides tools and training for clinicians to quickly provide patients with high-quality and cost-effective 3D printed prosthetics.
The anthology, which has raised over USD
$950
for LimbForge to date, features all televised Doctors, across 25 stories, including a five-part framing story with the Twelfth Doctor and Clara. New features include 12 illustrations from some of Doctor Who fandom's best artists, as well as revealing author interviews.
The anthology is edited by
Matt Grady
with
Samuel Gibb
with a foreword by
Gary Russell
.
Tipped off by a mysterious raven man, the Twelfth Doctor and Clara travel to Refuge, home of the last vestiges of life near the end of the universe. There, they discover an ancient, powerful Time Lord relic. No sooner does it activate, than new thoughts, new memories form in the Doctor's mind: new adventures of all his past selves.

Someone or something is tampering with time, changing the destination of the TARDIS, and altering the Doctor's past. He and Clara must travel into danger, into darkness to set things right.
The anthology features stories by Violet Addison, John Anderson, David Black, Andrew Blair, Simon Blake, Christopher Colley, John Davies, Abel Diaz, R.P. Fox, Stephen Hatcher, Chris Heffernan, Ian Howden, Pete Kempshall, J.R. Loflin, Kevin Mason, Roger McCoy, David McLain, Christopher Olsen, John Peel, Stuart Roth, Dale Smith, David N. Smith, and Nick Walters.
It contains illustrations by Simon A. Brett, Paul Cowan, Carolyn Edwards, Jon Wesley Huff and Michael Leis.
In addition artist
Paul Cowan
will be auctioning off his original hand-drawn Time Shadows illustrations for charity.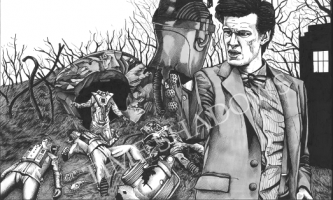 Ordering information for Time Shadows: Anniversary Edition and details about the artwork auction are available from
Pseudoscope Publishing