Wednesday, 12 July 2017 - Reported by Marcus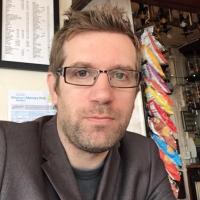 Tom Spilsbury
, the long-standing editor of Doctor Who Magazine, is to leave the magazine after ten years at the helm to be replaced by current contributor to the magazine
Marcus Hearn
Spilsbury has been editor of the magazine since August 2007, taking over with Issue 387. He will leave the magazine after the publication of the next issue, number 515. He is the longest serving editor of the Magazine, launched in October 1979 as
Doctor Who Weekly
.
Under Spilsbury's editorship, the Magazine reached a peak of over 35,000 copies, selling more copies than at any time since the mid-eighties. In May 2012, he accepted the
Eagle Award
for Favourite British Comicbook for the Magazine and in May 2016, he accepted the certificate from the Guinness Book of Records for the longest-running magazine based on a TV series.
Tom Spilsbury talked about his departure.
After 10 years as editor of Doctor Who Magazine, it's time for a change – both for me, and for the magazine. As the newly regenerated Second Doctor said in The Power of the Daleks, way back in 1966, 'Life depends on change and renewal', and I've made it a policy to always pay attention to my Doctor. Of course, it's been a very difficult decision for me, to give up a job that I love so much. DWM has always been a part of my life – virtually my earliest memory of life on this planet was of my Dad buying a copy of issue 1 for me, way back in 1979, when I was just three years old. It was 2003 when I got the job of a lifetime as DWM's assistant editor, and four years later, I finally got the top job. It's been simply amazing to have had the honour to be producing the magazine over such a successful and eventful decade in Doctor Who's history. However, having taken charge of 129 editions, including the 400th and 500th issues, it's time for someone else to have a go in the driver's seat. Marcus Hearn is a brilliant editor, and DWM is the greatest magazine in the galaxy. I'm so looking forward to being able to read it each month without already knowing what's going to be in it! And I truly hope that I'll still be around in the year 2054 to enjoy issue 1000, even if it's beamed directly into our heads by then...
The editorship will be taken by Marcus Hearn, a long term contributer, who previously co-edited the title in the 1990s. He has recently been the editor of the DWM Special Editions and the spin-off title The Essential Doctor Who.
Hearn has been writing about popular culture since the early 1990s. He wrote the book celebrating the fiftieth anniversary of Doctor Who, The Vault. He is co-author of The Hammer Story, the company's official history and wrote the Sunday Times bestseller Star Wars: Attack of the Clones ­- The Illustrated Companion,
Marcus Hearn said:
This magazine is unique, and it's a unique honour to be entrusted with it. We're all grateful to Tom for his unparalleled dedication. I'd like to build on his achievements, and I can't wait to start working with my colleagues at Panini. A new chapter is about to begin for the television series, and this will be a new chapter for DWM too
Mike Riddell,
Managing Director of Panini UK added:
Tom's contribution to the magazine over the past 14 years has been immense and we will miss his passion and knowledge of the brand which is second to none. Marcus brings a fresh approach to the magazine as well as a wealth of experience in magazine publishing