Fantom Audio
have released the latest in their line of alternative
Doctor Who
commentaries,
Who Talk
, which this month focuses on the third Doctor tale
The Green Death
.
Producer
Paul W.T. Ballard
said:
This was an important story for us to revisit as we were able to bring a variety of new voices and combinations of guests to a much loved classic.
This is the first time
Katy Manning
and
Stewart Bevan
have been brought together to record a commentary for The Green Death, and the experience of hearing the life long friends discuss the series was magical.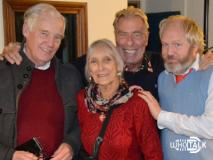 Katy and Stewart are joined for the commentary by UNIT regulars
Richard Franklin
and
John Levene
, plus
Mitzi McKenzie
(who played Nancy in the story) and director
Michael E. Briant
. The commentary is hosted by the stalwart
Toby Hadoke
.
In addition to the regular release, a special signed edition is also available, which as well as the commentary also includes a signature from a member of the cast, plus a free pack of four postcards featuring artwork from the
Who Talk
series.
Full details and how to order can be found at the
Who Talk website
.
Please note: these commentaries contain no BBC copyrighted elements and do not feature audio from the episodes themselves - these are designed to be played alongside the official DVD releases.