Monday, 20 February 2017 - Reported by Marcus
Three new non-fiction books are being released by Obverse Books this month.
BLACK ARCHIVE: SCREAM OF THE SHALKA
By
JON ARNOLD
Intended as the first in a series of online animated dramas, 'Scream of the Shalka' (2003) was the first attempt to redefine Doctor Who for the 21st century. Produced by BBCi and written by Doctor Who novelist (and later scriptwriter on the revived series) Paul Cornell, it maintains a traditional feel while rethinking the roles of Doctor, companion and villain.
Richard E Grant's Doctor is characterised as aristocratic and aloof, drawing on models from the past such as Jon Pertwee's third Doctor, Sherlock Holmes and even Dracula. The story, in which the Doctor must accept military assistance to foil an alien invasion beginning in an isolated English village, adheres to a venerable formula. Nevertheless, 'Scream of the Shalka' anticipates its successor in perceptive ways – featuring a Doctor who is 'an emotional island' numbed by recent trauma, a companion who must choose between a predictable life with her boyfriend and the joys and dangers of travel with the Doctor, and a Master humiliated by the Doctor's duty of care.
A victim of timing as much as of its own flaws, 'Scream of the Shalka' remains a fascinating glimpse into an alternative vision for Doctor Who. This Black Archive volume publishes for the first time the detailed episode breakdown for Simon Clark's 'Blood of the Robots', originally commissioned to follow Scream of the Shalka as the second in BBCi's Doctor Who webcast series. Jon Arnold has edited fanzines including Shooty Dog Thing: 2th and Claw, and is a major contributor to Hating to Love: Re-evaluating the 52 Worst Doctor Who Stories of All Time. He wrote The Black Archive #1: Rose.
SCREAM OF THE SHALKA will be published on
1 March 2017.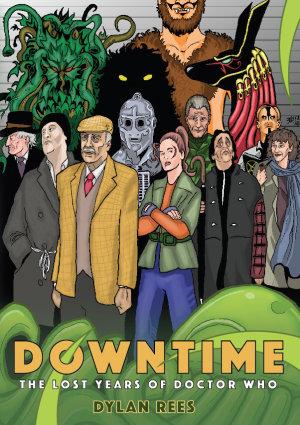 DOWNTIME – THE LOST YEARS OF DOCTOR WHO
By
DYLAN REES
Obverse Books is proud to announce the publication of the first in depth study of the so called Wilderness Years – the period between 1989 and 2005 when Doctor Who was in hiatus.
With no new official Doctor Who, it fell to the fans to safeguard the legacy of the show – fans who, in many cases, would go onto work on the new iteration after its relaunch by Russell T Davies. By licensing individual characters and monsters and hiring actors – including all the surviving Doctors and many of his companions – who had appeared on the show, the likes of Bill Baggs, Alan Stevens, Nick Briggs, Mark Gatiss and Keith Barnfather created something more than ersatz Doctor Who – they created a whole industry which kept the Who flame alive when it might otherwise have died completely.
With forty new interviews with key members of the teams behind such companies as BBV, Magic Bullet and Reeltime, author Dylan Rees investigates and analyses every Who-linked unofficial release from War Time all the way to The Minister of Chance, and speaks to all of the major creative talent involved in each project. Asked what drew him to this all but forgotten era, Rees said, "The book is really the story of fan ingenuity and creativity, and the careers that were forged or failed through these productions."
Dylan Rees has a background in film and television production, and has written for a variety of music publications as well as articles for various Doctor Who magazines. Downtime is his first book. DOWNTIME was published on
7 February 2017
.
TIME'S MOSAIC 5: DAVISON, SARAH-JANE AND ERIMEM
By
FINN CLARK
Imagine a Story fifty years in the telling.
That's a long time to maintain consistency. Storylines clash, continuity dies and contradictions flourish as one decade bleeds into the next, and one editor replaces another, each with their own idea of how the Story should be told. Add to that a veritable flood of formats – big screen, television, novels, audios, comics, short stories, cartoons – and what seemed at first to be merely difficult rapidly becomes all but unmanageable.
Now imagine if one man were to attempt to consider it all. One man reading the short stories and the novels, watching the movies and the box sets, listening to radio plays and compact discs…taking it all in so that you don't have to…
Join Finn Clark on an epic journey through the Whoniverse, as he reviews every single Doctor Who story in every single format. From 'An Unearthly Child' and TV Comic throwaways to Capaldi and IDW, with sidesteps into influences and spin-offs, he'll tell you, the reader, what he thinks of it all, good and bad… In this volume Clark examines the Peter Davison era, plus the Sarah Jane Adventures – with a quick check on the Egyptian Pharaoh Erimem – truly the ultimate review guide to Doctor Who!
TIME'S MOSAIC 5 was published on
12 February 2017
.