Wednesday, 7 December 2016 - Reported by Chuck Foster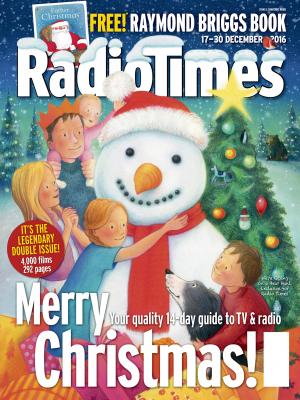 Today sees the nationwide publication of the 'lengendary' double edition of
Radio Times
, which features a second interview with
Peter Capaldi
in as many weeks!
Speaking about where he would go if he could travel in time, the
Doctor Who
star reflected on his pop-idols:
I never saw enough of David Bowie. And the last time he played in London, I had to give up my ticket as I had a job in Eastern Europe. My wife called me from the concert, held her phone up and let me hear the entirety of Heroes. It cost around 40 quid to hear that one song.
(The Beatles)
were the soundtrack to our lives, growing up in the 1960s. I remember hearing She Loves You everywhere. That song is like a time machine.
...
It came out in 1963 when I was five. Also in 1963, Doctor Who started on the BBC, and the Beatles appeared on it in 1965...
The full item can be read in
Radio Times
, which also includes an interview with UK Prime Minister,
Theresa May
on all things Christmas: speaking about what her TV schedule for Christmas would include, she said:
I always like to see Doctor Who on Christmas night, if possible, and a nice Agatha Christie to curl up with. David Suchet was a great Poirot – he got him to a T.

As well as the interviews, the magazine includes an exclusive photo-shoot featuring "Doctor Who in New York" with Peter Capaldi, Matt Lucas (Nardole) and Justin Chatwin (The Ghost), plus the last part of
their competition
to win a piece of exclusive artwork.
And, of course, full details on this year's Christmas Special,
The Return of Doctor Mysterio
!
The double-issue of
Radio Times
is on general sale nationwide today.